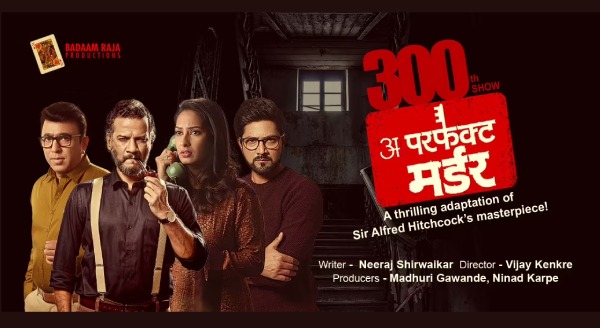 Producer-director Vijay Kenkre is thrilled, and why not? He is widely known for his hits like 38 KRUSHNA VILLA, KAALI RANI, YOU MUST DIE and other Marathi plays. In June 2023, the 300th show of his Marathi drama, A PERFECT MURDER is set to enthrall the audience on Saturday, 3rd June 2023 in Munbai.
I am pleased when my plays reaching 300 shows, which is typical for me, but I will be especially pleased when A PERFECT MURDER touches 500. However, the entire credit belongs to the management team, the marketing team, the actors, the writers, and last but not least, the spectators, as Marathi Theatre has a regular audience and the number rises if they enjoy the play.
"Marathi theatre was not particularly suited to watching thrillers, but after OTT, viewers started watching and adoring suspense thrillers, which contributed to the popularity of A PERFECT MURDER," he explains.
It's about Hitchcock in A Perfect Murder. Youngsters might not be aware of this, but people in the 40- to 45-year-old demographic are familiar with Hitchcock." It follows that Hitchcock has a ready-made audience, he continues.
A PERFECT MURDER is produced by Madhuri Gawande and Ninad Karpe, and the play casts Aniket Vishwasrao, Satish Rajwade, Priya Marathe, Subodh Pande and Rahul Pethe along with Pushkar Shroti in the roles.
*Mumbai Theatre Guide takes no responsibility for change in schedule.