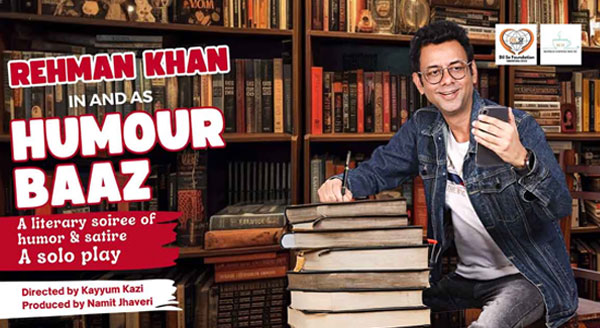 Rehman Khan is set to perform in a solo play HUMOURBAAZ, written by him and directed by Kayyum Kazi is set. The show is a compilation of satire and humor extracted from the treasures of Hindustani literature. Khan, a stand up comic is known for his witty jokes and comedic timing, will be suiting up to play the lead role. According to a note from the team, "Along with stand-up comedy routines, it will be a chance for his fans to see him in a new light. The objective of the play is to rekindle the interest of the masses in the rich Hindustani literature, Writers, poets, and Shayars which have somehow been left behind due to the dominance of internet culture and dying reading habits."
Read HUMOURBAAZ story
Khan says, "I've always been a fan of theatre and have been itching to take on a role that challenged me in a different way. I am very elated to be part of the play. This event marks my debut in a distinct format that is a rich blend of literature and poetry delivered with flavors of storytelling and stand up comedy. The theatrical presentation of this monologue makes it unique. I want people to watch these skills too."
He has discovered gems of humour from the works of poets and writers like Mirza Ghalib, Dagh Dehelvi, Munshi Prem Chand, Manto, Kunwar Bedi Sehar, Firaq Gorakhpuri, and others, who are generally known for their sombre writings. "I think comedy has a place in theatre, and I'm thrilled to be a part of this production that will hopefully make audiences laugh and leave feeling uplifted," says Khan.
The play premiers on November 18, at the Mukkti Cultural Hub
*Mumbai Theatre Guide takes no responsibility for change in schedule.