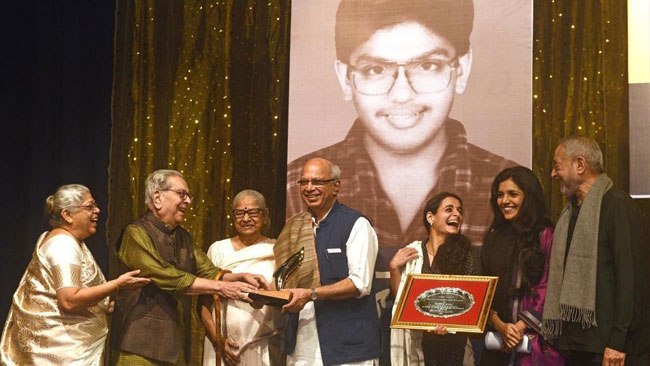 One of the most prominent and foremost playwrights of modern Marathi theatre, Satish Alekar, recently received the "Tanveer Sanman" award, instituted by Dr Shriram and Deepa Lagoo's Roopvedh Pratisthan in the memory of their son, Tanveer, who died in an accident. The Padmashree awardee delivered a thoughtful acceptance speech reflecting on the role of theatre and the theatre artiste who can be traditional and yet modern.

- Translated from the original Marathi by Deepa Karmalkar.

Namaskar!

Many faces that ought to have been here today are missing because they are not amongst us anymore. My parents, my wife Anita, my school teacher Rajabhau Lavalekar, Keshav Abhyankar, Ravindra Patankar, Bhalba Kelkar, who launched me into the theatre world, our theatre manager Shridhar Rajguru, our bhabhi Anita Rajguru, and those who untimely took exit from the world - Mohan Gokhale, Deepak Oak, Ramesh Tilekar, Sunil Kulkarni, Anand Modak, Suresh Basale, Arvind Thakur, Nandu Pol, Pravin Gokhale. I remember them all on this day. As you are aware, theatre is a huge team effort. It involves so many people handling different departments. It is a product of the joint efforts of the producer, director, actors, set designers, technicians and the theatre manager. Playwriting is just one part of it.

The "Tanveer Sanman" award instituted by thespian Dr Shriram Lagoo likened an actor to a nomadic courier of the playwright. I feel that Dr Lagoo said that not out of modesty, but he had his own interpretation. Renowned Russian theatre activist, Meyerhold (1874-19 40) said that the journey of the script of a play right up to the stage follows a linear pattern. He says that the when the writer hands over the script to the director, the director takes total possession of it. Likewise the actor takes charge of the script when he receives it and makes it his very own before delivering it to the audience. So even if the actor shoulders the responsibility of handing over the script to the audience, the script belongs equally to the writer and the director. In this sense, Dr Lagoo refers to an actor as a nomadic courier.

My generation was blessed to have witnessed Dr Lagoo at the height of his career in outstanding plays right from VEDYANCHA GHAR UNHAT, YASHODA, MAADI, MEE JINKLO MEE HARLO, EK HOTI RANI, to YETHE OSHALALA MRUTYU, NATASAMRAT, KACHECHA CHANDRA, HIMALAYACHI SAAWALI, GIDHADE, AADHE ADHURE, UDVASTHA DHARMASHALA, KIRVANT, AATMAKATHA, SURYA PAHILELA MANOOS. Over the last 60 years, he has set a benchmark and his acting workshop continues, serving as a full-fledged curriculum for theatre students.

Although Dr Lagoo is neither a trained actor himself and nor emerged from the traditional mould of family dramas – his acting process is very methodical, progressive, modern and consistently contemporary. As Peter Brook put it: an artist must go both with and against the tide at the same moment. If in the theatre one isn't with the tide, one's out of touch, and one isn't speaking the language of the moment. It is necessary for the artist to remain connected with the audience through traditional acting, and at the same time he must convey modern thought which may not be mainstream. Dr Lagoo struck this fine balance so very effortlessly. Alongside him we watched the followers of modern urban traditions - Dattaram, Shambhu Mitra, Trupti Mitra, Vijaya Mehta, Naseeruddin Shah and folk traditionalists like Dadu Indurikar, Vitthal Umap, Rambhau Gondhali, Tijjanbai. We also watched Nilu Phule who walked the middle line of folk and modern theatre. And so, Dr Lagoo, who always championed progressive thinking and fought for freedom of expression, I pay my first respects to him.

In 1972 my plays were put up by Theater Academy. Without the support of Theatre Academy and my colleagues in it, how could I have put up my plays? I owe it to the Academy – my journey from nothingness to here. Next, I pay my respects to the Academy and to my colleagues.

I was the first full time professor and Head of the Department of Performing Arts at the Lalit Kala Kendra in Savitribai Phule Pune University from 1996 to 2009. Even here everything began from nothingness. It wouldn't have been possible without the support of my colleagues, especially Shubhangi Bahulikar, my former student Pravin Bhole, and the assistant Hema Deshpande. I pay my respects to them thirdly.

Today's honor is bestowed upon me not only for the plays I have written but also for my work at the Theatre Academy and at Lalit Kala Kendra. What should I talk about today? About being grateful or about taking leave as I am approaching my seventies soon? Logically or philosophically? About what I know or what I have mugged up? About local issues or global currents? About my own plays or plays of others? Just about art or about politics as well?

Oh that reminds me…today is 9th December. Three days before, i.e. on 6th December, when 25 years ago on that day as the Babri Masjid was demolished, our production GHASIRAM KOTWAL was staged at Kolkata's Nandikar Natya Festival. The day before, my play BEGUM BARVE had been staged.

This is the silver jubilee year of the demolition of the mosque. In the year 1972, it was the Silver Jubilee of the Independence of India. That year on 12th December, GHASIRAM KOTWAL premiered on stage. These are memorable two silver jubilee years - 1972 and 2017. The first one marked the Partition, heartbreaks and the Independence of the nation while the second one marks the demolition of the Babri Masjid and the splitting of mindsets. On both occasions, our plays were there to entertain and to celebrate freedom of expression through characters like Ghashiram and Sakharam.

We are often told that 'art is a mirror of life'. The artist must not feel intimidated by his surroundings. The cultural atmosphere should be free and permissive. The politicians must be supportive of that. If it is otherwise, artists must raise their voice against it. The divisive forces that led to the demolition of the mosque in 1992 are in power today. And to top it all, this is also the silver jubilee of the economic liberalisation in India! Three silver jubilee years are being played up on the social media. Will the medium of theatre prove effective in such times? Will that bring about some change?

You have all heard of the famous, France-based, British theatre person, Peter Brook. He is the same age as Dr Lagoo. He is still active in his field. His thoughts were recently published, two months ago, in a 100-paged book, and is titled 'Tip of The Tongue' (Reflections on language and meaning) in which he states:

"When doing a play on conflict and violence, how often have I had to answer the same idiotic question: 'Do you think you can change the world?' Today I would like to say; yes we can change the world. But not in the old way that politicians, ideologists or militants try to make us believe. Their business is to tell lies. Theatre is occasionally capable of moments of truth.

If we are supremely ambitious and supremely modest, we see that an enormous amount is possible. A tiny group in a tiny space can create something unforgettable. When there are more people, there is more vitality; there can be a vibrant energy. This world, limited in space and time, can be changed and sometimes so unforgettably that it can change an individual's life.

Different groups of people have to work together with different opinions. My father used to tell a story, 'There were only two surviving sailors who made it to a deserted island after their boat capsized. They established their own government on the island. One of them became rightist and the other leftist!' So even in our little world of theatre there are different opinions, narrow-mindedness, rivalry ... but it is easily possible to swim against this tide. If we are able to create same goals, needs, and theatrical love in the theatrical space ... like the actors coming together for the climax of a play. We can unite the audience; we can change the confused world. It could be any kind of drama; it has the power. Like before and after visiting the doctor."

So be it!

I humbly accept this "Tanveer" honour by Roopvedh Pratishthan. As per my son Mikin's advice, I am donating the proceeds of the award to an organisation working with female cancer patients.

*Deepa Karmalkar who has translated the speech, is a film and theatre reviewer. She has been an entertainment journalist for over fifteen years.