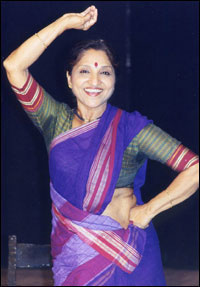 At a time when so many homes are missing their domestic help, what better play to revisit on our series on old favourites, than Nadira Babbar's Sakubai?
Most urban households cannot do without their domestic help, and the lockdown period must have given homemakers a glimpse of the difficulties they would face without the 'bai' to to wash their dishes and clean their apartments.
It is this cheerful, trustworthy woman who Nadira Zaheer Babbar paid tribute to in her successful play
Sakubai
. The solo act starred stage diva Sarita Joshi, in her seventies now, but as energetic as ever, eyes twinkling, feet moving with practiced grace. Nadira Babbar wrote the play at a time when she was despairing of getting good, original plays in Hindi. So she picked up a pen and started writing herself, inspiration for this one coming from the ubiquitous presence in almost every Mumbai household, the nine-yard sari clad Maharashtrian maid.
Now, the younger maids are spiffily dressed in synthetic saris and have a basic education, but Sakubai came from an earlier era, brought over to the city along with her mother, by her uncles, to help beat poverty back home in the village and help raise younger siblings. At a young age, she is put to work in homes-sweeping, swabbing, scrubbing vessels, washing clothes and cooking-and never went to school. These honest, hardworking women can be trusted with keys, and do their work often in the absence of their employers.
When the play opens, Sakubai comes in to work in the rain, and as she clears the messy house, talks about her life-the displacement from home, the back-breaking work, the squalid existence in Mumbai, the traumatic rape by her uncle that gets her evicted from the house, her marriage to a decent man, the birth of her daughter. With consistent good cheer, she lampoons the foibles of her rich employers, but is unwaveringly reliable--at one point preventing the theft of her
memsaab's
diamond ring.
She knows and keeps secrets of the families she works for; often takes on the role of nurse, counseller and confidante.
This Sakubai is luckier than others of her ilk, who invariably have unemployed alcoholic husbands who beat them. She accepts her fate with equanimity and does what she can to better her own life and that of her daughter. She has a lot to complain about, but she is not a whiner. The women who work in our homes seldom are-they are happy with a little kindness, they have no dreams of their own, but live for the comfort and progress of their children and grandchildren.
Sakubai
embodies all this. Mumbai's wheels run a little more smoothly thanks to the thousands of
Sakubais
, who are seldom given the credit due to them.
Sakubai
is one of Ekjute's most popular plays, and Sarita Joshi held the audience spellbound with her fabulous performance.
Deepa Gahlot is a critic, columnist and author. Some of her writings are on www.deepagahlot.com