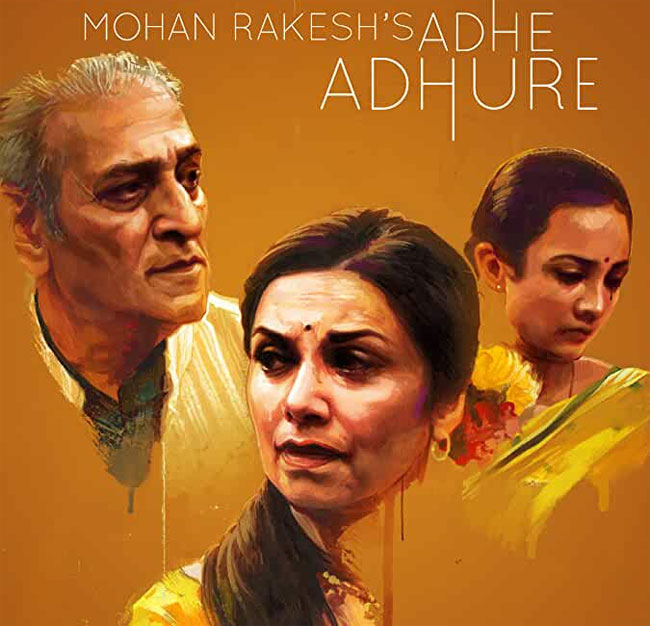 Continuing our series on classic plays that are available online, with Mohan Rakesh's ADHE ADHURE, that retains its power over half a century.
Mohan Rakesh's
ADHE ADHURE
, written over fifty years ago, is considered a modern Indian classic, and like all masterpieces, is timeless. Over the years, it has been done by various directors in several languages-- The Primetime Theatre Company's production can be watched online, with Mohan Agashe and Lillete Dubey in the lead roles. (There are other videos too, but the quality of the CinePlay version is the best).
Rakesh tore at the holy cow of traditional Indian society-- the family. He portrayed a dysfunctional family before the term became trendy. In his play, the family is nuclear-- an unhappily married couple and their three disgruntled children. The husband, Mahendranath is unemployed, the wife Savitri, is the breadwinner, doing her duty as spouse and mother, but making no effort to hide her anger, bitterness or desire to escape. At a time when cinema and popular literature was putting the ideal housewife on a 'devi' pedestal, Savitri was not apologetic about her relationships with other men.
At home, there is no peace for her-she returns from her tiring job with a sleazy boss to find the tiny flat always in a mess; the younger daughter, schoolgoing Kinni, complains shrilly of being neglected, the son Ashok, has dropped out of college and spends the day sleeping or loitering; the oldest daughter, Binni who had eloped (with one of her mother's lovers, it emerges), keeps returning to her parents house, carrying a vague sense of unease that does not allow her to settle in her marital home.
The husband becomes the target of Savitri's rant, and from their dialogue it is clear that he failed at being the strong, supportive man that she wanted, and feels redundant in the house. The already tense air in the room is made worse by the arrival of Savitri's boss, Singhania, and later a former lover, the charming Jagmohan, followed by Mahendranath's disapproving friend Juneja. Rakesh wrote all the men to be played by the same actor, perhaps to heighten Savitri's suffocation or underline the fact that the men she hopes to depend on, let her down. (1968 was perhaps too early for the truly independent woman, who could live by herself.) Two of them, Manoj and, Shivjeet, the intellectual, are referred to but not seen on stage. Like a modern-day Draupadi, Savitri seeks different things from different men, perhaps because one man cannot have every quality she desires in a husband.
Like Savitri there are millions of women in loveless marriages, who prefer the security of social approbation, to the uncertainty of life outside the home. They make the excuse of duty and family and 'what will people say' to avoid the search for their own happiness.
When the play ends, in spite of her efforts, Savitri is still not out of her hell, but at least she is aware that she is in one, and perhaps one day, she will be able to leave it all behind. Bitter and bitchy though she may be, Savitri evokes sympathy, and remains one of the most challenging roles written for an actress on the Indian stage.
Deepa Gahlot is a critic, columnist and author. Some of her writings are on www.deepagahlot.com