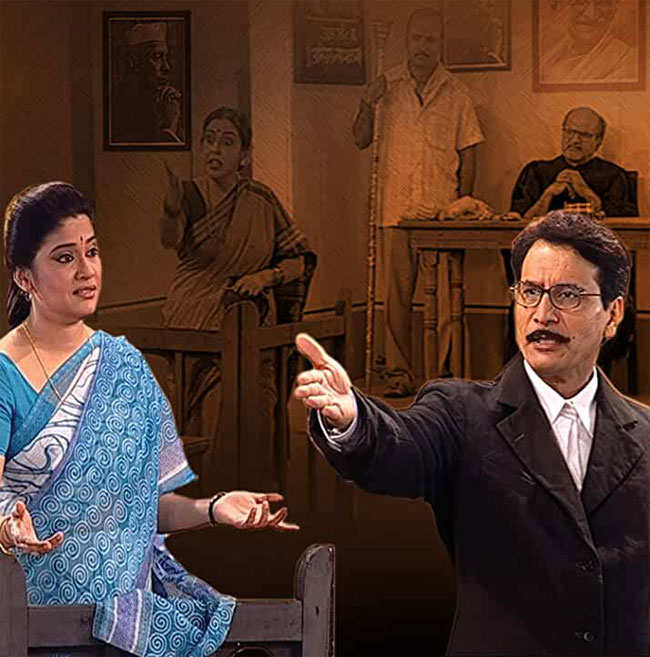 Continuing our series on old classics with Vijay Tendulkar's Shantata! Court Chalu Aahe. A filmed version starring Renuka Shahane and Sandeep Kulkarni is available online. There is also a 1971 movie version, directed by Satyadev Dubey to be found on the net.
The first production of Vijay Tendulkar's Marathi play, was by Rangayan in 1967, directed by Arvind Deshpande, with Sulbha Despande in the lead role of Leela Benare.
Like so many of his plays, this was an indictment of social hypocrisy and the kind of moral policing of women that is prevalent even today. Since then, the play has been translated widely and has been staged hundreds of times all over the country.
The play, inspired by a conversation in a train overheard by Tendulkar, that was about the conducting of a mock trial, was about a woman, who is perceived as immoral by her colleagues, being viciously attacked in a simulated court case.
A group of teachers, including Leela Benare, have travelled to a village to perform a play. When a cast member does not arrive, a stagehand is hastily picked as a replacement and a mock trial is arranged in a classroom, to acquaint him with court proceedings. For the purpose of the mock trial, a charge of infanticide is brought against Benare.
What had started in a lighthearted spirit, turns savage when it is revealed that Benare is pregnant as a result of an affair with an older, married Professor Damle, who is conveniently not present at the time; in any case, a man is seldom held responsible for his sexual transgressions. In the fake trial, Kashikar plays the role of the judge, Sukhatme plays the lawyer, while other members of the troupe, Ponkshe, Samant, Karnik and Rokde play various witnesses.
Under the pretext of prosecuting Miss Benare, her past is dug up (she had been sexually exploited by her uncle as a teenager) and her private life exposed. Her colleagues turn into a baying mob, intent on humiliating Benare for her alleged misdeeds. When an upset Benare tries to leave the room, she finds the door is stuck and she cannot escape.
The tension gets thicker, the intimidation of the woman gets uglier. Her crime is her sexual vulnerability and her unmarried status. The only other woman in the room—Mrs Kashikar-- is the sort of smug married woman who derides Benare for breaking out of the "limits of freedom allowed." When Benare is battered into a wreck, they get out of costume and pretend it was just a game.
The play is as powerful today as it was then—because even though things have changed for the better in many ways—the #MeToo movement has made men answerable for their abusive behavior-- for women gender justice is still a long way off.
Deepa Gahlot is a critic, columnist and author. Some of her writings are on www.deepagahlot.com