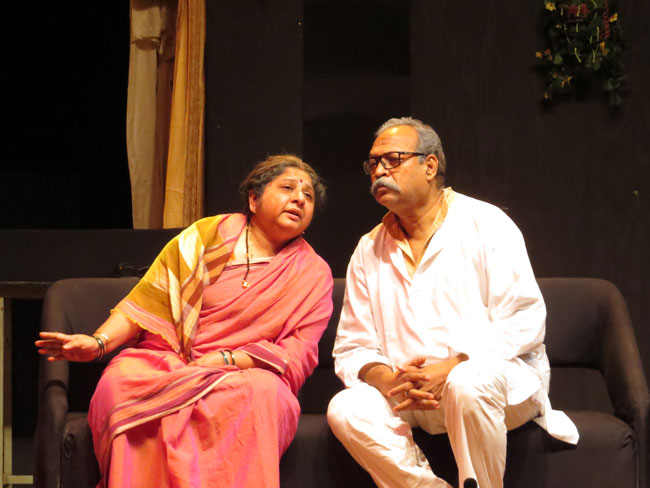 As Om Katare revisits KAALCHAKRA on MTG's eNatya Chaupal, a look at the play, that is even more relevant today than it was a quarter century ago.
Amidst Yatri's roster of crowd-pleasing comedies, is the serious KAALCHAKRA, which is, amazingly, Om Katare's most-watched and longest running play. There are people who have seen it multiple times and keep coming back, bringing their friends to see it; the audience is often reduced to tears during the play, as they relate to the tragedy of an elderly couple.
KAALCHAKRA, originally written in Marathi by Jaywant Dalvi, has the heart-rending subject that was relevant when he wrote it in the 1970s, and is even more significant now, since it deals with the problems of the the aged, in an urban nuclear family.
Mr and Mrs Inamdar (Om Katare-Paromita Chatterjee) spent their middle-class lives and all their funds to raise their children. But when they get old, their two sons and daughters-in-law are reluctant to look after them. This is the case in so many families, where the aged parents are seen as a burden by their children and sent off to homes for senior citizens.
Inamdar is not one to take this attitude lying down, and places an advertisement in the papers for adoption, if any family will have them. His reasoning is that if those who are desirous of children and cannot have them, resort to adoption, so there must be people in the world, who want parents but don't have them, why can't they adopt parents? Much to his surprise, and the embarrassment of his sons, a young couple comes forward to take them home; they were both orphans and never had parents. They give the old couple the love and care they did not get from their own children. The sons are ashamed not because of what they did but for fear of what people will say.
Another of Dalvi's plays, SANDHYA CHHAYA, was also about the agony of old parents abandoned by their children, but they were the kind to suffer in silence. The unavoidable melodrama of the situation is tinged with the anger and bitterness of the father in KAALCHAKRA, who is willing to do something to remedy the situation, rather than weep and moan about their fate. The younger actors have changed over the years, but Katare and Chatterjee have remained constant for quite a while and hold the show together with their performance and perfect chemistry. Katare, has grown into the part and made it his own, playing Inamdar with impressive dignity..
Deepa Gahlot is a critic, columnist and author. Some of her writings are on www.deepagahlot.com