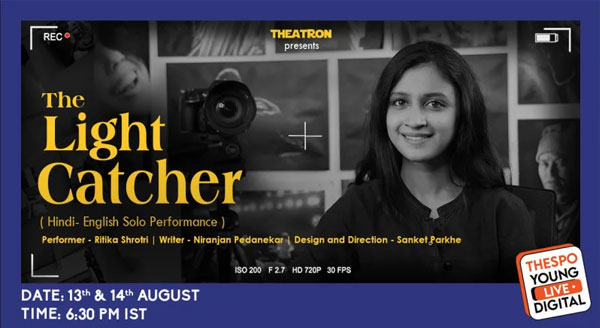 Thespo: Young Live Digital! 2nd Edition

Thespo is a youth theatre movement that curates a range of activities throughout the year aimed to showcase and train young theatre enthusiasts. It is back with its second edition of Young Live Digital (TYLD). The TYLD initiative encourages emerging artists to explore the digital medium for storytelling. It is a program focused on encouraging and training emerging theatre-makers and groups to showcase their work and explore the digital medium, wherein Thespo curates live digital shows by artists under the age of 25, every second Friday and Saturday of the month.

The performance of THE LIGHT CATCHER is presented and produced by a Pune-based Youth theatre group, Theatron Entertainment, and will take place on 13th and 14th August. Being performed live in Pune, the show can be accessed from anywhere in the world.

About The Light Catcher

A photographer takes the audience on a tour of the world from her little studio. Using the black & white pictures from her travels, she introduces characters from Mumbai, Haryana, Lahore, Ethiopia, Uzbekistan, Venezuela and North Korea. But the question is, which one is her favorite photograph?

Ritika Shrotri, the performer of the show says, 'THE LIGHT CATCHER is an amalgamation of theatre and cinema, a hybrid that we created during the lockdown. It is in discovering the nuances and biases of each character through the lens of a photographer, that makes this solo performance an intriguing experience.'

Anushka Ghose, the Coordinator & Mentor-Team Thepso, shares 'Every so often, a piece of art comes around and makes the whole world around you look brand new. THE LIGHT CATCHER is a fantastically designed show that really pushes the boundaries of what is possible in the digital, live performing arts space. Having first performed at the Thespo 22 digital festival, it was also the recipient of 2 awards and so the 2nd edition of TYLD aims to further the journey of this truly innovative performance.

In keeping with the spirit of innovating with the digital medium, Thespo is curating Thespo Tapri - an evening of storytelling by emerging artists from across the globe taking place in September and October and with the Thespo 23, - the International Digital Youth Theatre Festival happening in December 2021, audiences can surely expect to experience interesting live performances from the comfort of their homes.'

Catch THE LIGHT CATCHER on your screens on the 13th & 14th August, 6:30 PM.

Click here to know More - https://www.mumbaitheatreguide.com/dramas/digitalevents/the-light-catcher/847/8132021/

*Parul Rana is a theatre enthusiast and movie buff.