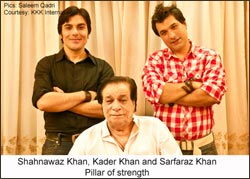 "Kal Ke Kalakar International" is set to present two one-act plays, both written by the well-known film actor and dialogue writer, Kader Khan, and starring and directed by his sons, Shah Nawaz Khan and Sarfraz Khan. Kader Khan himself was discovered the legendary film actor Dilip Kumar while he was acting in a play for his college. Shah Nawaz and Sarfaraz too have been in the theatre circuit, acting in and directing Hindi plays like BADI DER KI MEHERBAAN AATE AATE, TASH KE PATTE and BEST OF LUCK.

HAMARE BHI HAIN MEHERBAAN KAISE KAISE, directed by Shah Nawaz Khan, is a political satire set in a meeting of municipal corporators. On the other hand, LOCAL TRAIN directed by Sarfraz Khan, is a comedy set in a local train presenting a milieu of the metropolis Mumbai.

Mr. Kader Khan says "Both the plays depict the life and struggles of the common man. Whether it is commuting to work by the local train or by road; or the fact that he does not have a say in political matters. That is in general the struggle he goes through every day as he works hard to make a living."

Says Shah Nawaz, "Recreating a play that my father wrote over 35 years ago and reimagining the characters to fit today's modern day life was an immense challenge but a great joy at the same time."

Sarfraz adds, "The challenge in a comedy is in capturing the moods of the characters in different situations and that has been the best part about working on this play for me as a director."

The next show is meant to be a star studded affair that will be attended by celebrities from film as well as from the stage.