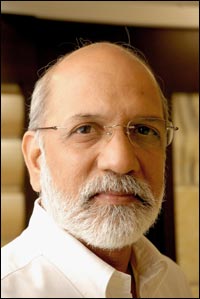 A Marathi tele-serial producer was in for a rude shock when the Film City presented him with an exorbitant bill for his shoot and he was denied the 50 per cent subsidy that Marathi productions are entitled to. That rule holds good only for Marathi films argued the Film city authorities. Things came to a head and the harangued producer approached Nitesh Rane of Swabhiman and Anant Panshikar of Natyasampada. "The issue required a permanent solution. An industry becomes sustainable only with adequate funding. Films, TV and Theatre - all the three require funding and patronage. So we came up with the idea of setting up a corpus fund- Maharashtra Kalanidhi (MKN)," elaborates Panshikar.

He explains: "Since Marathi theatre is the smallest sector of the entertainment industry worth Rs five crore, while Marathi films and its TV industry are worth Rs 100 crore each, MKN decided to take off with theatre. Moreover, unlike films and TV, there are no backers for theatre. Theatre thrives solely on word-of-mouth publicity and good reviews. Also, the theatre is a matter of great pride for us Maharashtrians, so we trained out sights on it first."

It is a two-tiered plan. To start with, the MKN will get funds from the corporates in exchange of entitlement of publicity and marketing against sponsorship funds. On the second level, they will create a captive audience of 10000 strong in Mumbai to begin with to deliver the goods. MKN will identify meritorious productions and back them. The demand and supply chain once organized, the business of theatre will be automatically streamlined, opine Rane and Panshikar.

It appears that Nitesh Rane's administrative support and Anant Panshikar's combined experience in corporate and theatre production, plus the synergy the two share, is bound to yield positive results. The productions that MKN will back will depend on "content, entertainment value and production capability". MKN will soon launch an exclusive and limited membership of 10000 theatre lovers in Mumabi entitling them to watch 12 quality productions over a period of one year. "It's a good cause and we are both passionately working towards it," says Panshikar, brushing off any political aspirations attached to the mission.