IAPAR (International Association for Performing Arts and Research) is hosting its first IAPAR International Theatre Festival 2016 from 18th to 22nd November 2016 in Pune, Maharashtra. IAPAR is a Pune-based network of artistes and arts professionals seeking to exchange ideas, increase opportunity within the arts community and connect all within it in a global context. IAPAR is the only Indian member institute of the UNESCO­UNITWIN Network for Higher Education in the Performing Arts.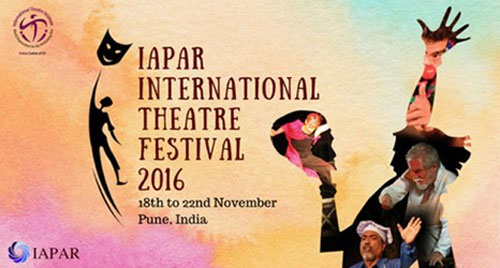 The theme of the first IAPAR International Theatre Festival 2016 is 'Actor at the Centre'.
It will feature nine plays from India as well as from other countries.
Apart from these productions, it will host platform performances, Master classes by senior theatre practitioners, workshops, play reading sessions, interactive sessions amongst the artists and the audiences and outreach programme for schools.
The venue for the festival is Jyotsna Bhole Sabhagruha
, an important space for innovative and creative work in the heart of the city, on
Tilak Road, Pune
. The festival is an effort to offer a platform for strong cultural exchange and creating global connections.
The participants this year are from Austria, China, Germany, Italy, Japan, Korea, Russia, SriLanka, Switzerland and of course India.

The festival has been supported by the Maharashtra Cultural Centre , Lalit Kala Kendra (Gurukul)
,
Savitribai Phule Pune University, Pune with generous contributions from the Forbes Marshall Group and support by URMEE, Radio Mirchi and Insider.inSome highlights of the festival:

-
The 1000th performance of the play
MAA MUZHE TAGORE BANA DE
, will be staged at this festival. 10 performances of this play will be performed in neigbouring schools and recreation centres.
-
Aniruddha Khutwad's
play
TULSI KI MALA
will premiere at the festival. After a long hiatus actor
Chittaranjan Giri
will perform with his wife
Ashwini Giri
in this play. All three are alumni of the
National School of Drama, New Delhi
.
- Renowned writer
Abhiram Bhadkamkar
will be reading his new Hindi play
ADHIPATI
.
- Master Workshops will be conducted by theatre practitioners from Austria, Italy, Japan, Korea , Srilanka and India.
- An exclusive exhibition of paintings titled
'Set Against Light: Magic of theatre'
, by veteran artiste
Shyam Bhutkar
, will be showcased at the festival.
- Post-Performance interation with artistes.
- This is an official festival of the Indian Centre of International Theatre Institute( ITI)
As
Vidyanidhee Vanarase
, founder-director of
IAPAR
expresses,' There are very rare opportunities for art practitioners to have a dialogue across cultures. It is comparatively easier to initiate academic conversations. But to look at the experiential understanding of an artist and articulate it in a way that it contributes to the 'knowledge' is a tough task. Building a network through this festival would be a brave step towards trying to look at multiple aspects of performing arts in one framework - a network that would offer more interaction across the disciplines. The interdisciplinary approach would be a reality in this kind of network. IAPAR aims to work in this direction.'
The detailed schedule of the festival along with further information about IAPAR and its activities can be viewed visiting http://www.iapar.org/


Mumbai Theatre Guide takes no responsibility for change in schedule.