2017 marks the 150th birth anniversary of the great Indian saint, poet-philosopher, and spiritual luminary Shrimad Rajchandra (1867-2017). Hailed as the spiritual guide of Mahatma Gandhi, Shrimad Rajchandra had a tremendous and formative influence on the Father of the Nation. "Such was the man who captivated my heart in religious matters as no other man ever has till now." (Mahatma Gandhi on Shrimad Rajchandra - Modern Review, June 1930).

On the occasion of Shrimad Rajchandra's 150th birth anniversary, SRMD presents the theatre production, YUGPURUSH-MAHATMA NA MAHATMA.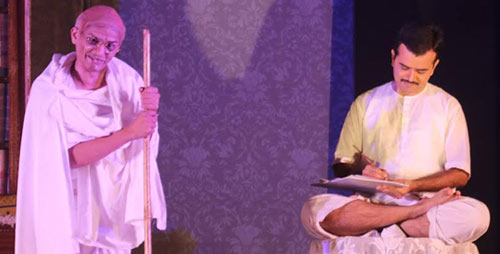 The play portrays the profound relationship shared between Mahatma Gandhi and his spiritual mentor.
The Gujarati play is directed by
Rajesh Joshi
of
CODE MANTRA
fame, and is scripted by well-known playwright
Uttam Gada
of
MAHARATHI
fame.
The music direction is by popular composer duo
Sachin-Jigar
.
Mahatma Gandhi's great-grandson,
Tushar Gandhi
, shared his thoughts after watching the premiere of the play in Mumbai on 14th November 2016. He said,
"What is important for me is the humility and the selflessness that Shrimadji instilled in Bapu, because of which an ordinary man could rise to become a Mahatma. I hope you take this play all over the world, but especially to those places that need it the most - where the message of ahimsa is absent. These two greats have sown in us the seeds of becoming better human beings. It's now upon us to irrigate it with our own experiences, and with the humility of the belief that we are nothing but instruments."
The play is said to support the cause of the Shrimad Rajchandra Hospital - a new 200-bed multi-specialty charity hospital for the economically underprivileged in South Gujarat. SRMD's larger aim is to spread Shrimad Rajchandra's values of
ahimsa
and
satya
that shaped Gandhiji's beliefs.
It is said that over 50 shows have been booked all over Mumbai till 31st December. The play is likely to be staged across India and the world. It is in Gujarati but it may have productions in English, Hindi and other regional languages soon.