Dr Shankar Shesh wrote several, original plays contributing to Hindi Literature. These plays have been performed by professionals as well as amateurs. The Shankar Shesh Foundation has been found in the memory of the late playwright to promote his work as well as support original and creative playwriting.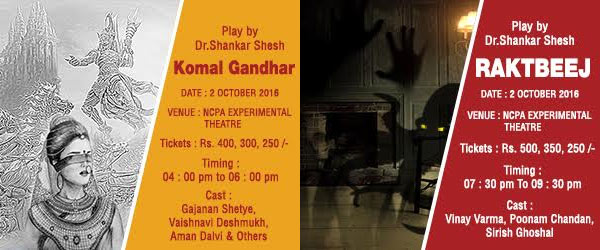 To commemorate
Dr Shankar Shesh 's
birth anniversary on
2nd October
, the Foundation is presenting two plays written by him that exemplify the nature of his work and which allows directors the latitude and freedom to stage them.
KOMAL GANDHAR
, directed by
Ajit Bhagat
, will be staged in Marathi. In the play,
Dr Shesh
has interpreted Gandhari's character from the Mahabharata. The play reflects Gandhari' s agony when she learns about her marriage to a blind king.
Dr Shesh
also narrates one by one the death of all her 100 sons.
Sutradhar
group from Hyderabad will stage
RAKTABEEJ
in its original Hindi. This is one of most performed plays
Dr Shesh
has written. Set in contemporary style, the play narrates two stories about, how our system is used and abused and of some even use death to achieve immortality. The play has been directed by
Vinay Varma.
Watch both plays back to back on 2nd October, starting 4 pm at the NCPA Experimental Theatre.
Date:
2nd October 2016
Time:
4 pm to 6.00 pm (KOMAL GANDHAR); 7.30 pm to 9.30 pm (RAKTABEEJ)
Venue:
NCPA Experimental Theatre
Mumbai Theatre Guide takes no responsibility for change in schedule.