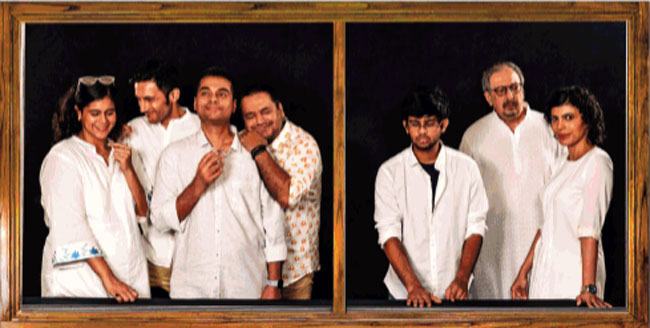 AGP World's GOOD MOURNING!
is a 75-minutes dark comedy featuring
Badho Bahu
-famed
Ryatasha Rathore
; stand-up comedienne and former VJ (of
Lola Kutty
fame)
Anuradha Menon
;
Sohrab Ardeshir
, who has performed extensively in the US and in India for over four decades;
Zafar Karachiwala
, prolific TV, film and theatre actor; noted English, Hindi and Marathi actor
Aseem Hattangady
, and rising stars of the stage and web,
Omkar Kulkarni
and
Danny Sura
.
The play will premiere on the
23rd August 2019,
followed by a show on the
24th August 2019
at the
Sophia Bhabha
auditorium and at the
St. Andrews'
auditorium respectively.
The play is the mainstream directorial debut of
Deven Khote
, better known for his work in TV and in Film and as founding director of UTV. This is also the first play written by British film and television actor,
Kavi Shastri
, writer of numerous films and television productions, and currently heading content development at
Vir Das's Weirdass Comedy.
Ashvin Gidwani
, producer,
AGP World
says, "
I commissioned Kavi to write the play for AGP World because we are keen on original writing which can follow our vision of producing work for the global market. Post that, I got him together with Deven and the two of them immediately conspired to churn out this heady concoction of comedy and drama.
"
Deven Khote
says, "
The genesis of GOOD MOURNING is a surreal, alcohol-soaked evening spent with friends many years ago, trying to console one of our group who had just lost his father. When Kavi and I got together on this project, we were honestly headed in a completely different direction; when I casually recounted the evening to him, he just went crazy, and created this gem virtually overnight! It's really terrific writing; wickedly funny, multi-layered and meaningful, with an eclectic group of thoroughly identifiable characters… It's completely mad, but somehow, completely real. And with our incredible team – and Ashvin backing it – it's honestly a dream debut vehicle
!"
For his part,
Kavi Shastri
says,
"This is my first outing as a solo writer for the stage. GOOD MOURNING is one of the most amazing journeys of discovery I have had about myself. It definitely unlocked parts of my mind I didn't know existed. This is a play that brings you a lighter side of something far more serious. The characters as based on my observation of people I have met in life and an extension of that. Mourning doesn't always need to be somber and in silence... in life sometimes 'Good Mourning' is the key to having a Good Morning in the days to come
."
*Mumbai Theatre Guide takes no responsibility for change in schedule.