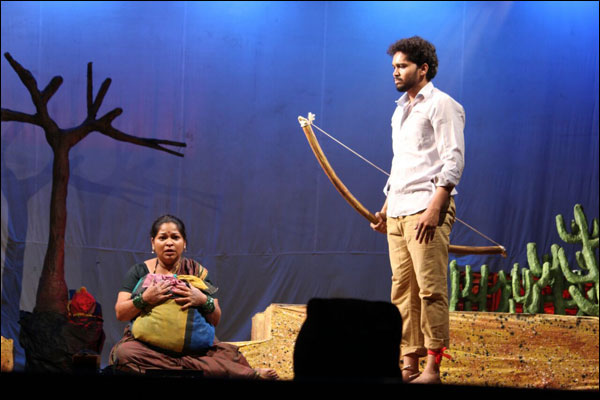 Second Year students of the
Academy of Theatre Arts
at
Mumbai University
will stage
Ram Daund's
play
HEY RAM
.
Ram Daund
has also directed this production.
HEY RAM
has been one of the best plays of recent Marathi theatre. Speaking to
Ram Daund
about his experience directing the students for this new production, he said that the production gave him an opportunity to look at the play afresh, and to make its subtext more accessible, so that audiences can read between the lines. They would have a greater appreciation for the play's political and social commentary.
Ram Daund
also wondered that as a playwright-director writing on a caste-ridden, hierarchical society like ours, things have not changed and the politics around caste also remains the same. A writer, he says, in such instances, would be glad that his play would cease to be relevant if things changed. But they haven't.
The play is also notable for its huge cast with around 55 actors. Working with students this time,
Ram Daund
says, they bring their own perspective and freshness to the play. The students have been very enthusiastic, he adds.
HEY RAM
besides the upcoming shows at Mumbai University will also be staged on
30th November 2019
at the
Mumbai Marathi Sahitya Sangh
auditorium as part of the
Maharashtra State Theatre Competition
.
Inaugural show at Mumbai University on Saturday, 23rd November 2019 at 7 pm.
The chief guest for the event is Professor
Suhas Pednekar
, Hon'ble Vice-Chancellor, Mumbai University. Special guest will be veteran actor Dr.
Girish Oak
.
Other shows on Sunday, 24th November and Monday, 25th November at 7 pm.Venue for all Mumbai University shows:
Muktakaash Rangmanch, Lecture Complex, Mumbai University, Kalina Campus.
*Mumbai Theatre Guide takes no responsibility for change in schedule.