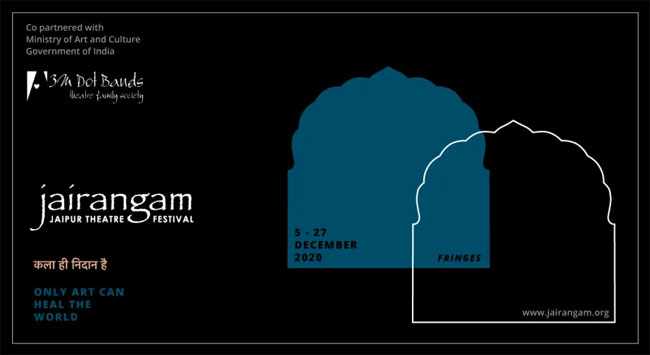 The annual Jairangam Theatre Festival in Jaipur, is one of the biggest in the country. The Jaipur Theatre Festival was established in 2001 by 3m dot bands theatre, and renamed Jaipur Rang Mahostava or Jairangam in 2012. Over the years, under the devoted leadership of Deepak Gera, it has become a cross interaction platform between the regional, national and international level of amateurs, performers, actors, directors, story tellers, scriptwriters, technicians, artists, etc. where they exchange their values, expertise, professionalism, learning, experiments, etc. with a wide open relevant world to take their form of art and exposure to the next level as per the global standards.
Click Here to Know More About Jairangam Jaipur Theatre Festival Workshops
This year, the Festival has to go online because of the pandemic, but the programming remains as vibrant as ever, with participants from all over the country, presenting 20 plays, 30 workshops, 10 talk shows and 7 cultural evenings, spread over a week.
*Mumbai Theatre Guide takes no responsibility for change in schedule.