The Drama School Mumbai is now accepting applications to the PG Course in Acting and Theatre-making 2020-2021.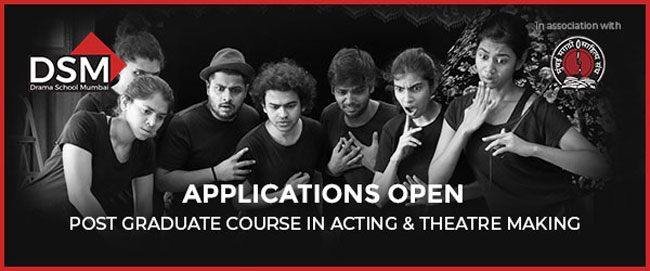 Now in its eighth year, the
Post Graduate Course in Acting and Theatre-making
is a one-year, full-time course of intensive practical work. During the one year of study, students:
Study the fundamentals under highly trained actors, theatre-makers, and producers
Make theatre every week with critical feedback
Learn from the best practices from across the globe
Perform and tour a new production under professional theatre
Intern with prominent theatre companies and organisations
Acting, Creation and Entrepreneurship are the 3 Pillars of the Programme. Students experience rigorous classes to condition the body, voice and mind. They are mentored by some of the
leading practitioners
in the field in devising classes, weekly theatre-making assignments, and play-making projects throughout the year. This is accompanied by classes in entrepreneurship, communication, play-reading, arts and aesthetics as well as production work.
If you are looking to equip yourself with the skills necessary to start a successful career as a theatre professional, DSM's Post-graduate Course is your first step!
Download Prospectus
Request Application Form