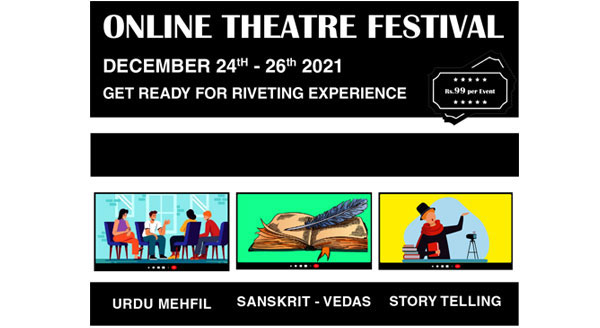 Theatre Management Company and Mumbai Theatre Guide proudly announces the third edition of the Online Theatre Festival from December 24th - 26th
Events lined up for the OTF - III include Urdu Mehfil, Sanskrit Series, and Storytelling.
24th December: Urdu Mehfil - Celebrating Manto: The event will stream live at 8 pm. Mumbai's famous group Katha Kathan is set to perform in Urdu Mehfil celebrating Saadat Hasan Manto.
25th December: Sanskrit Series - Introduction to Vedas: The Vedas are a treasure vault to wisdom and knowledge. Professor Prabhawati Chaudhary, who has been teaching Sanskrit for 36 years now, is taking up this session.
26th December: Storytelling - Kutte by Patras: Actor Sikandar Khan will be performing a funny story Kutte written by the writer Patras Bokhari..
Find the line-up of the event at: https://www.mumbaitheatreguide.com/dramas/schedule/online-theatre-festival-otf-iii-festival-24