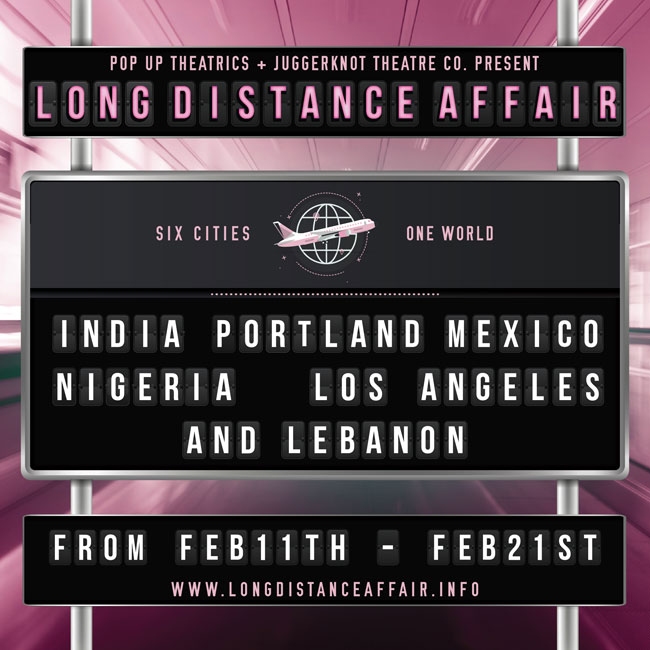 In a virtual world anything is possible--Juggerknot Theatre Company, producers of the critically acclaimed immersive show MIAMI MOTEL STORIES and PopUp Theatrics, the New York-based site specific immersive theatre company led by Tamilla Woodard and Ana Margineau have joined forces to produce LONG DISTANCE AFFAIR, which is a collaboration involving theatre artistes from six cities.
In a note, Tanya Bravo of of Juggerknot Theatre Company says, "Someone across the globe is reaching out just for you.. What will be the result when you and a perfect stranger meet with only a computer screen between you? Join us,and make possible an impossible trip!"
"Although borders across the world are still on lock down, LONG DISTANCE AFFAIR takes audience members on a virtual globe trot across the globe. From the intimacy of one's home, in real time, 18 theatre artistes from six cities around the world – Mumbai/India, Portland/USA, Mexico City/Mexico, Lagos/Nigeria, Beirut/Lebanon and Los Angeles/USA, have come together to create this one-of-a-kind virtual adventure."
"A silver lining of the pandemic is the ability to collaborate across boundaries, time zones and cultures in a seamless way," says playwright Dipti Bramhandkar of Mumbai. "Rather than looking at the limitations of online work, I like to see the many advantages that technology presents to us as we create work that is reflective of this historic time. Embracing all the amazing uncertainty of 'live' performances is still true in the online world. How we can create surprise and spontaneity on the screen is a wonderful challenge as a writer."
In intimate ten-minute theatrical encounters, audiences can drop in to three cities or all six. Performances are limited to five audience members; audience members will be connected with small parties of other travelers for globe-trotting encounters to three of the six cities.
LONG DISTANCE AFFAIR runs from February 11 - February 21.
Link to Tickets:
www.LongDistanceAffair