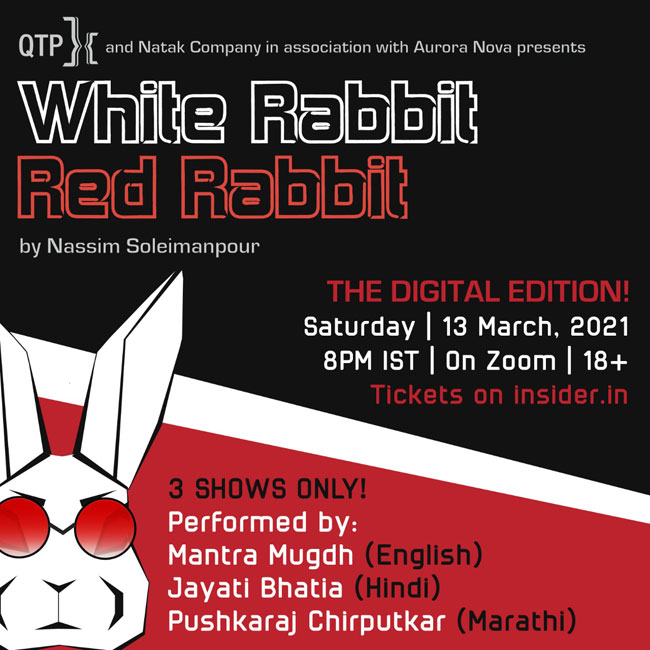 A digital show of Nasim Soleimanpour's
WHITE RABBIT RED RABBIT
has been organised on March 13, 2021, in support of the
StayIN aLIVE Artist FundQTP and Natak Company
present WHITE RABBIT RED RABBIT
,
for the initiative of Let there be theatre. This internationally acclaimed play by Nasim Soleimanpour will be staged simultaneously in Hindi, Marathi and English on Zoom. A share of the proceeds of the ticket sales will go to StayIN aLIVE Artist Fund.
The play is unique because it has no rehearsals, no director, and a sealed script handed to a new performer before every show. It is up to the artiste to then interpret the text with spontaneity and audience participation, "to address contemporary issues with honesty and humour."
There are three shows on at 8 pm IST, in English, Hindi and Marathi, all at the same time. The audience can choose to watch any one of them. The actors are Manta Mugdh (English), Jayati Bhatia (Hindi) and Pushkaraj (Marathi)
March 13 marks the anniversary of the longest theatre shutdown in modern history. According to a note, "The initiative aims to create an extraordinary global event that celebrates live theatre and the resilience of our sector. And therefore, an adapted version has been developed for Zoom performances. Keeping this in mind, these shows are a fundraiser in support of artists affected by the COVID-19 shutdown.
"Theatres have been invited to produce WHITE RABBIT RED RABBIT on the 13th of March, 2021 completely free of charge. The performance can happen in any kind of venue, large or small, indoors or outdoors, whichever is permissible under local Covid restrictions. Venues will keep income they receive for the performance. Aurora Nova encourage producers to donate a portion of the takings to a worthy cause, to aid someone in their community in need of help. Although it also would be completely fine if that someone is the producer. The performer can be of any gender or occupation (it doesn't have to be a trained actor), but it is imperative that they do not know the play or see the script before performing it in front of an audience.
"It is a one-time experience because the performer will have its opening and closing night of this play at the same time. At 8 pm in every time zone there will be a multitude of shows starting at the same time for 24 hours, thus creating a massive theatrical community. Hundreds of performers will face the daring task to read a text they have not seen before to a live audience and everybody will be present at the same moment."
ABOUT StayIN aLIVE is a collective of creative organisations that have been working to develop a long-term, sustainable platform for artists to nurture, strengthen, and support each other. It is a collaborative effort that aims to give back to the live arts and performance industry in a time of great need and hopes to create a movement of self-sufficiency within the industry, even beyond the pandemic. The platform is aimed to build support for the gig workers in the performing arts economy and stands on three legs, 'Educate, Inspire and Support'.
*Mumbai Theatre Guide takes no responsibility for change in schedule.