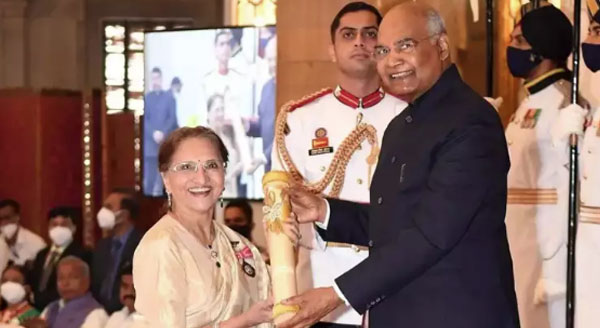 Mumbai stage doyenne, Sarita Joshi, received the Padma Shri at the hands of President Kovind, for her contribution to the field of art. The actress, 80, has acted in several Gujarati, Hindi and Marathi plays, along with films and television serials.
Born Sarita Bhosle, she began acting on stage at the age of nine along with her sister Padmarani. She moved on to lead roles at the age of 16, and went on to act in plays produced by Indian National Theatre, where she met Pravin Joshi, whom she married.
Some of her memorable plays include PRITHVI VALLABH, MOTI VERAANA CHOK MA, MOGRANA SAAP, CHANDARYO, SAPTAPADI, DHUMMAS, SAPNA NA VAVETAR, SANTU RANGILI, KUMARNI AGASHI, MAUSAM CHHALKE, LADY LALKUNWAR, SAVITA DAMODAR PARANJPE, SAKUBAI.
In 1988 she was awarded the Sangeet Natak Akademi prize for acting in Gujarati theatre, which is among a plethora of honours for her long and distinguished career.
Her daughters Ketki and Purbi Joshi, followed her footsteps into the field of acting.