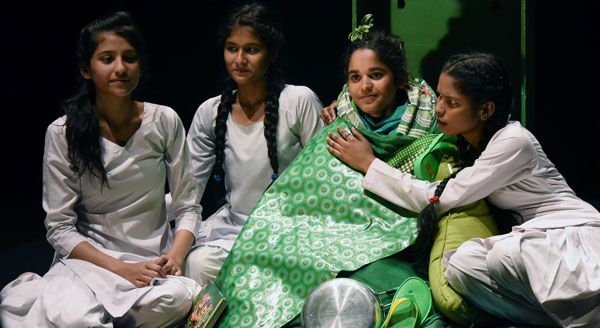 Ticketing platform Paytm Insider has collaborated with Bhasha Centre to present a series of engaging plays by Aagaz Theatre Trust and Third Space Collective. The line-up of shows includes BHAGI HUI LADKIYAN and RIHLA by Aagaz Theatre Trust and MAHISH by Third Space Collective.
Elaborating on the reasons for this collaboration, a note states, "Theatre groups in India, barring the established few, rarely have the ability or resources to travel with their plays or even do more than a handful of shows in their own cities. Weeks and months of rehearsal, designing and planning seem to be used for just a weekend of shows in one space. For the makers, it sometimes feels not worth it, and for the audience, if you blink you miss it! Not anymore.
BHAGI HUI LADKIYAN, directed by Dhwani Vij, revolves around four Muslim teenage girls from Delhi's Nizamuddin Basti, and captures their everyday stories that explore ideas such as gender dynamics, identity, caste, consent, personal space and sexuality and invites the audience to walk with them.
RIHLA is an adaptation of Andreas Flourakis' award-winning play I WANT A COUNTRY. Directed by Neel Chaudhuri, the play is about young rebels who seek to chart out a course for a 'new country', a new identity, fresh values and a space to claim as their own. They fight, argue, mock and educate each other and reveal their dreams, fears and secrets.
Merging religion and politics, Delhi-based theatre group Third Space Collective's Hindi play, MAHISH (Buffalo) is a modern-day rendition of Romanian French playwright Eugene Ionesco's play RHINOCEROS, adapted for the stage by Rajesh Nirmal and directed by Neel Sengupta. In a town which is engrossed in annual Navratra festivities, a beguiling event turns everyone's world upside-down.
Varun Khare, Business Head, Paytm Insider, commented, "This collaboration with Bhasha Centre will present a series of impactful plays whose stories are unique, exciting, uplifting, funny, and heartbreaking, making it a unique experience. Through this collaboration, we hope to bring more of these experiences to cities across the country, growing the community further."
Vivek Madan, Founder, Director of- Bhasha Center for Performing Arts, a Bangalore-based organization that operates pan-India, said. "This partnership comes at the right time for the theatre fraternity, reeling from two years of a pandemic and lockdowns. Aagaaz and Third Space have really made the most of this opportunity by programming these plays at several venues, making them accessible to a cross section of society. Bhasha Centre, as an organisation that aims to facilitate more and more work, is working with Paytm Insider to enable a range of quality theatre performances, from across the country. These plays are not to be missed."
*Mumbai Theatre Guide takes no responsibility for change in schedule.