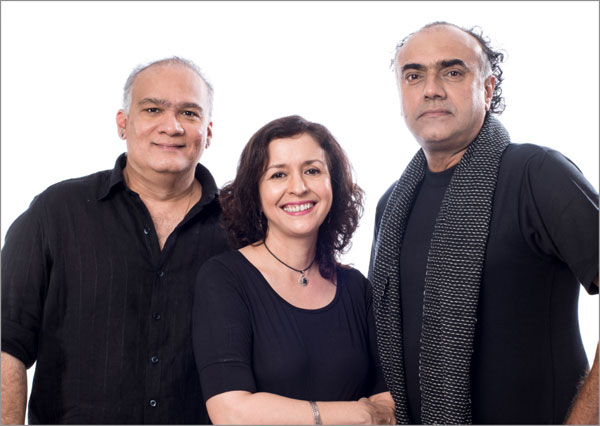 Rage
in association with the
NCPA
presents
36 GHANTE
. This is their second unique outing with the theatre that celebrates
25 years of
Rage
. The trio of
Rajit Kapur
,
Rahul Da Cunha
and
Shernaz Patel
are excited.
10 writers, 10 directors and 40 artistes. All of whom will together create power-packed performances for the stage in just 36 hours
. What makes this evening particularly special is that all the money they raise through tickets will be given to ten of theatre's very own artists, technicians and theatre workers that
Rage
collectively wishes to acknowledge through this event.
The trio of
Rajit Kapur
,
Rahul DaCunha
and
Shernaz Patel
is excited as they are celebrating 25 years of Rage,
"What a perfect way this is to celebrate 25 years in the theatre! To be surrounded by sixty of our theatre's best and to watch them create theatre magic; to have one evening that unites so many diverse and famous theatre practitioners; to watch them take up the challenge of creating plays in just 36 hours with such joy and then to top it off…to acknowledge those who have given so much of their lives to this profession. This night will be truly a special one…for us, for all those participating and for all those in the audience." -
Shernaz Patel
The way
36 GHANTE
works is as follows:
For the playwrights:
Oct. 25th 7 p.m.
Rage will call the playwrights (there are 5 writing in English and 5 in Hindi) and they will be given a theme on which they have to write a ten-minute play. The plays then need to be delivered by 5 pm the next evening i.e. 26th evening. The only condition is that each play has to have 2 male and 2 female parts.
For the directors:
Oct. 26th 6 p.m.
There are ten directors (5 for English and 5 for Hindi). They will need to blindly choose one of the scripts…as in there will be no names on the scripts, so they won't know who has written which play. Also the names of forty actors and actresses that Rage has contacted in advance (20 for English and 20 for Hindi) will be written on chits and they will, in turn, get to choose (again blindly) their cast!
For the actors:
Once the casting is done on the 26th they will be called and the next days' schedule will be planned. They will also be sent their script so that they can start learning lines!
Oct 27th 8 a.m.
Rehearsals will begin at the NCPA.
Oct 27th 7.30 p.m. - Showtime at NCPA's Tata Theatre.
The Team:
Playwrights (English & Hindi):
Abhishek Majumdar, Adhir Bhat, Ashok Mishra, Hussain Dalal, Purva Naresh, Rajat Kapoor, Ramu Ramanathan, Raghav Dutt, Siddharth Kumar, Saurabh Shukla
Directors (English & Hindi)
Atul Kumar, Danish Husain, Faezeh Jalali, KK Raina, Mohit Takalkar, Nadir Khan, Pawan Uttam, Quasar Padamsee, Sheena Khalid, Sunil Shanbag
Actors (English & Hindi)
Amol Parashar, Aseem Hattangady, Ashwin Mushran, Ajitesh Gupta, Anand Tiwari, Chaitnya Sharma,Gagan Dev Riar, Karan Pandit, Kunaal Roy Kapoor, Neil Bhoopalam, Priyanshu Painyuli, Ranvir Shorey, Shishir Sharma, Sohrab Ardeshir, Sahil Vaid, Sarang Sathye, Shubrojyoti Barat, Sumeet Vyas, Vicky Kaushal, Zafar Karachiwala
Actresses (English & Hindi)
Aahana Kumra, Abir Abrar, Amruta Subhash, Ayesha Raza, Anahita Uberoi, Anu Menon,
Divya Jagdale, Ila Arun, Karla Singh, Lovleen Mishra, Malaika Choudhury, Meher Mistry, Mansi Multani, Prerna Chawla, Puja Sarup, Rajeshwari Sachdev, Shikha Talsania, Sadiya Siddiqui, Sonali Kulkarni, Trishla Patel
This is a one night only event!
*Mumbai Theatre Guide takes no responsibility for change in schedule.