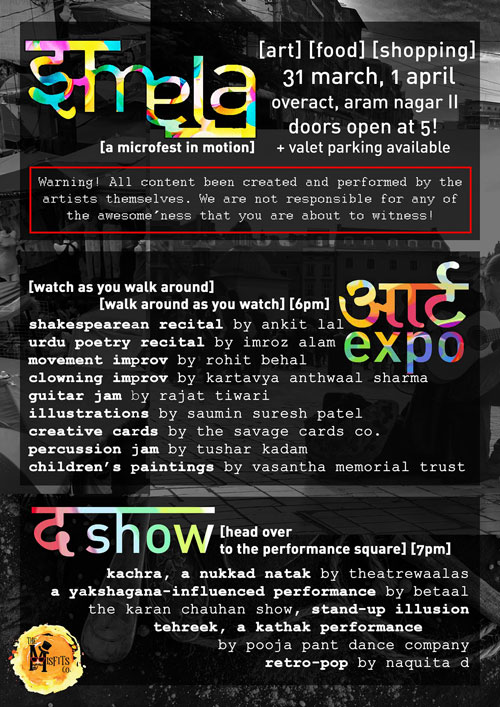 "I've learned that, people will forget what you said; people will forget what you did; but people will never forget how you made them feel."
Maya Angelou
.
Some may term this as a product, some as a fest, while others, an intellectual property. And all hold true. The one thing that
"Jhamela"
most definitely aims to be is an experience.
The Misfits Co.
brings you a one of a kind event that borderlines festivals and shows. Definitively an arts-driven, portable, recurring micro-fest,
"Jhamela"
is a caravan, popup event-of-a-sort that essentially engages hyper-local communities in experiential and differential live content, some lip-smacking food aur
thodi si shopping
.
"Jhamela's"
core lies in building relationships with hyper-local communities through arts, food, shopping…basically, culture, and to work as an enabler for the same. In addition to this, one of
"Jhamela's"
ambitions is to dig into the upcoming hyper-local talent and showcase them along-side the hyper-local stars (be it arts, food or shopping).
The two most unique features of
"Jhamela"
are portability and the ability to recur while engaging with communities on a more intimate level and on a high frequency basis rather than on an exorbitantly large scale and just once.
"Jhamela"
hopes to be a project which re-appears every month, catering to smaller groups of people, constantly jumping between the various hyper-localities and at the same time, adapting for the same to suit its respective needs.
The Misfits Co
. is an Arts & Events company that constantly works on pushing the boundaries of creativity.
The first edition of "Jhamela" starts 31st March and 1st April 2018 at OverAct Alternative Theatre Space, Aram Nagar, Part 2, Versova, Andheri (W).

Tickets @ Rs 599; available on Insider.In*Mumbai Theatre Guide takes no responsibility for change in schedule.