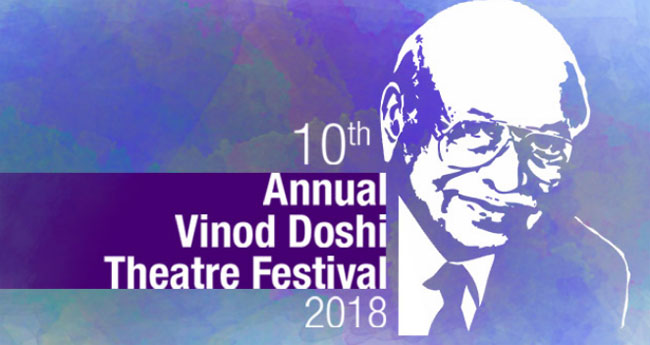 One of the prominent theatre festivals in the country- The
Vinod Doshi Theatre
Festival
, initiated in the memory of eminent industrialist and a passionate arts-lover
Vinod Doshi
, believes in the vibrancy of theatre. Keeping the vibrant culture of theatre alive is the extremely popular
Vinod Doshi Theatre Festival
.
Hosted in
Pune each year
, the festival will now stage its 10th edition.
Over the past decade, the festival has staged plays in Marathi, Hindi, English, Gujarati, Kannada, Punjabi and even non-verbal languages. Works of stalwarts and rising new stars in the theatre have found a place in the festival be it
Vijay Tendulkar
,
Mohan Rakesh
,
Ismat Chugtai
,
Girish Karnad
,
Sai Parajpe
,
Naseeruddin Shah
,
Ratna Pathak Shah
,
Kumud Mishra
,
Raghubeer Yadav
,
Pallavi Arun
,
Sunil Shanbag
,
Mohit Takalkar
,
Atul Pethe
,
Irawati Karve
,
Neel
Chaudhuri
, and others. Of special mention are India premieres of prominent plays -
GAJAB KAHANI
,
UNEY PUREY SHAHAR EK
,
SINDHU, SUDHAKAR AND RUM ANI ITAR
that happened at the
Vinod Doshi Theatre Festival
. To celebrate the landmark year, this year's festivities are soaked in nostalgia and come with a promise of the future.
BANDISH
, a fascinating musical by
Purva Naresh
will be this year's special premiere in Pune. A spellbinding story of two disparate singers, it takes the audience through palaces and nawabs in a captivating manner. Other plays that theatre enthusiasts can look forward to are
MAHANIRVAn -"
Satish Alekar's astounding black comedy (Marathi, Natak Company),
WORDS HAVE BEEN UTTERED
-" Sunil Shanbag's signature take on dissent (Tamasha Theatre),
MAHABHARATA
-" a play styled on the Japanese puppet art of Bunraku (Katakatha) and
YAYATI
-"
Girish Karnad's recreated classic (English, Jagriti Theatre). The festival will be held from
February 19th to 23rd, 2018 at the Yashwantrao Chavan Natyagruha, Kothrud.
Said
Dr. Saryu Doshi of the Vinod and Saryu Doshi Foundation
, This is a platform for expression and performance that our team has worked tirelessly to create. With a lot of love, we bring to the people of Pune 5 days of a celebration of not just theatre and the performing arts, but life itself!"

Mr. Ashok Kulkarni, Festival Director,
further added,
"This has been an absolutely special decade. To add zing to the festivities, we are reviving two classical plays, one each in Marathi and Kannada, to bring them alive for a completely new audience. YAYATI, Girish Karnad's classic from the 60s, will be staged for the first time ever in Pune, and it is our special gift to our patrons who have given us so much love over the years. My favourite part of the festival is the post-play informal interaction between the makers and the audience. It is this spirit of open communication and access to the arts that the Vinod Doshi Theatre Festival aspires to keep alive."


The Schedule:

*Mumbai Theatre Guide takes no responsibility for change in schedule.