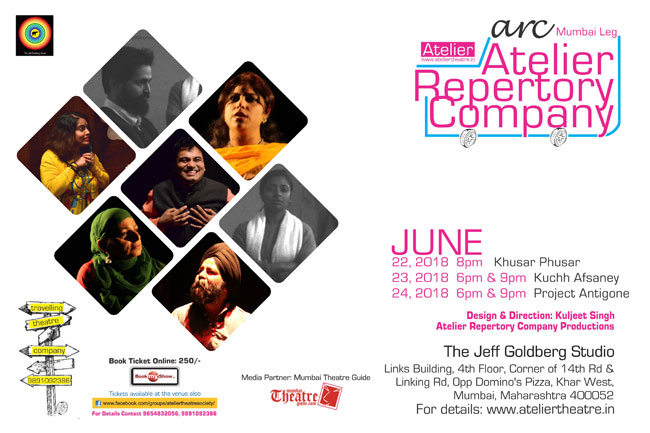 ARC
is an offshoot of
Atelier Theatre
formed in 2004 by its founder director,
Kuljeet Singh
.
ARC
began its journey in 2010 with a bunch of actors and performed for audiences in Delhi/NCR and in various other States through invitations/festivals.
In 2017, the Company decided to move out of the capital and take theatre to various destinations in North India. With this vision in mind,
ARC
began mapping 20 cities in 6 states (Uttar Pradesh, Haryana, Punjab, Rajasthan Uttarakhand & Himachal) from December 2017. Their initiative will extend to September 2018, with more than 70 performances of its 5 theatre productions in its repertory
.
All the productions are produced by
ARC
and are directed by
Kuljeet Singh
.
Atelier Repertory Company (ARC)
is an urban, travelling theatre company that takes multiple theatre productions in Hindi and English to a diverse range of audiences.
Founder- Director
Kuljeet Singh
who appears to be inexhaustible says: "
Mumbai remains a very critical region to perform for ARC. It also opens our South India chapter. The plans are to travel and do at least150 shows a year and I feel it's achievable. I have resigned from my college teaching job as ARC demanded time, energy, planning & collaboration. It's happening."
The company is no stranger to Mumbai and on this leg of its travels, it will bring to Mumbai audiences three of its plays:
KHUSAR PHUSAR
,
KUCHH AFSANEY
&
PROJECT ANTIGONE
.
The shows will be performed at The Jeff Goldberg Studio, Mumbai on June 22, 23 and 24 2018.

Here are the details:
KHUSAR PHUSAR
Friday, June 22, 2018 8pm

Several affluent couples gather in the posh suburban residence of a couple celebrating their first anniversary. When they arrive, they discover there are no servants; the hostess is missing, and the host - resident from the posh colony of south Delhi - has shot himself through the earlobe.
Comic complications arise when, given everyone's upper-class status, they decide they need to do everything possible to conceal the evening's events from the local police and the media.
A ninety-minute comedy in Hindi and English.
KUCHH AFSANEY
Saturday, June 23, 2018: 6 pm & 9 pm


A collage of four stories by Saadat Hasan Manto - BU, THANDA GOSHT, DHUAN & KAALI SHALWAR.
Interwoven with the court proceedings Manto faced for his writing, KUCHH AFSANEY is a literary treat with aesthetic visual appeal. With its wide ranging characters, the adaptation playfully argues the politics of censorship.


PROJECT ANTIGONESunday, June 24, 2018: 6pm & 9pm

"PROJECT ANTIGONE" is a contemporary political take on the famous Greek tragedy. Antigone is a metaphor of defiance. The play probes the age-old ideas of fate, justice and truth and the project locates "Antigone" in the contemporary status quo.
Coupled with musical rendering of the 16th century Punjabi poet, Sultan Bahu Ji Maharaj along with voice-overs of Avtar Pash, Faiz Ahmad Faiz & Rajesh Joshi with a live painting, this production brings alive various narratives together.
*Mumbai Theatre Guide takes no responsibility for change in schedule.