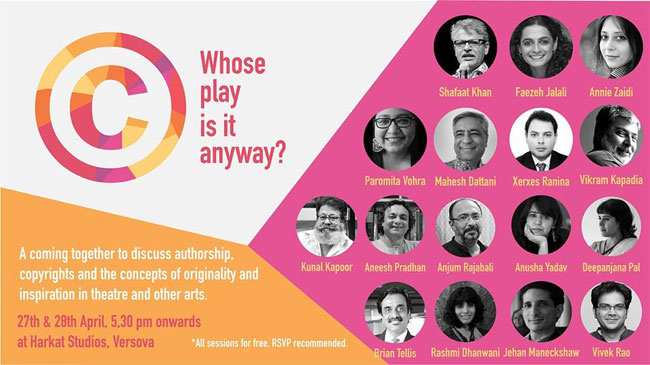 Whose Play is it Anyway: "A coming together, to discuss authorship, copyrights and the concepts of originality and inspiration in theatre and other arts."
Day One: Saturday, 27th April 2019
5:30 PM How do we create and what inspires us? Playwrights and theatre makers share their creation processes.
7:30 PM Is the time ripe for theatrewallahs to act on and understand the legalities and ethics around producing work?
Day Two: Sunday, 28th April 2019
5:30 PM An across the arts perspective on creator rights.
7:30 PM Going Forward: How can organisations and institutions boost
ethical theatre practices?
Panelists include:
Mahesh Dattani, Kunal Kapoor, Paromita Vohra, Annie Zaidi, Brian Tellis, Jehan Manekshaw, Shafaat Khan, Faezeh Jalali, Vikram Kapadia, Anjum Rajabali, Aneesh Pradhan, Deepanjana Pal, Anusha Yadav, Vivek Rao, Rashmi Dhanwani
*Mumbai Theatre Guide takes no responsibility for change in schedule.