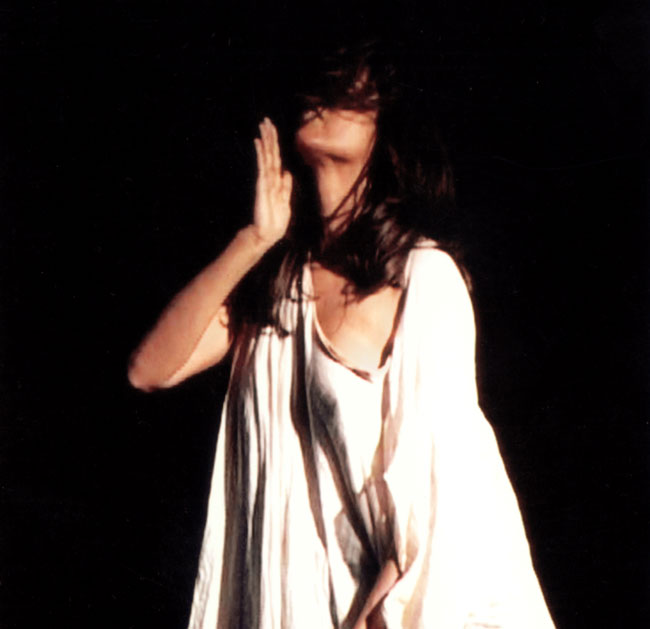 Next up in line in the third
G5A Performance Long Run
, a solo act celebrating the woman mystic - poet of 14th century Kashmir: the iconic
Lal Ded's
life will take place. The play is a theatrical collage of poems, songs, thoughts and philosophies of the medieval poetess.
With
LAL DED
,
Meeta Vasisht
takes the stage in a role she has conceived and co-written and travelled with around the country since 2004.
"My theatre performance of
LAL DED
and the docu-feature film I have made on her, engage with the phenomena of
Lal Ded
in very different ways. While both are seminally different they expand the persona and the poetry of
Lal Ded
with the power inherent and specific to each medium," says
Meeta Vasisht.
This play in Hindi, English and Kashmiri is a journey into the collective consciousness of the present times and introduces us to some of Lal Ded's poetry. The rhythm of
Lal Ded's
poetry was brilliant and powerful - she uttered short verses that touched the lives and concern of all the people of Kashmir - the political became personal and the religions in her verses, became secular.
Elaborating more on why she chose poetry for her performance,
Meeta Vasisht
says, "I strongly believe that our active, breathing engagement, with the poetry of our great poets, (both contemporary and those immortal), our relationship to the poetry of our respective cultures and ethnicities, allows for us to live our times with understanding, wisdom and compassion, and with an empowered sense of self."
The performance of the play and the screening of the film will be followed by a workshop on Vaachik, the poet and on poetry.
The play
LAL DED
will be staged on
31st January 2020
and will have a run till
9th February 2020
.
The film "She Of The Four Names"
will be screened on:
• Saturday, 1 February - 8 pm.
• Sunday, 2 February - 8 pm.
• Saturday, 8 February - 8 pm.
• Sunday, 9 February - 8 pm.
The Workshop 'The Poet Within"
will be conducted on
Monday, 10th February 2020 from 12 pm to 4 pm
.
The workshop is a master class where in the actress, writer, and co-director of the play deconstructs the process of arriving at the performance'. She makes the process exciting and relevant and revelatory to every participant, whether they are performers or members of the audience.
Venue for all events:
G5A Foundation For Contemporary Culture, Mahalaxmi, Mumbai.

Passes available on Insider.in: https://insider.in/a-play-a-film-and-the-poet-within-lal-ded-jan31-2020/event*Mumbai Theatre Guide takes no responsibility for change in schedule.