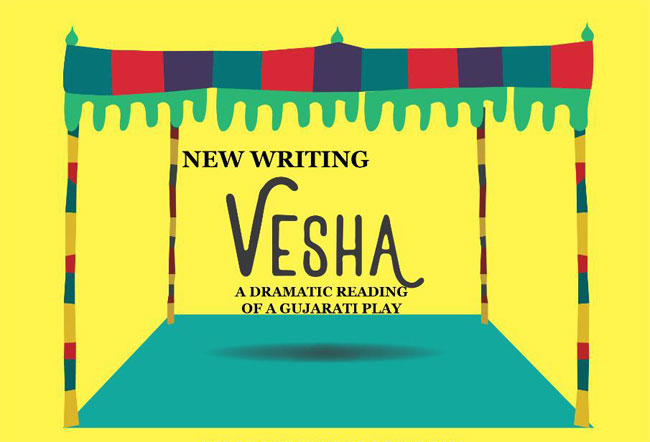 Studio Tamaasha's
dramatic readings of its new writing programme will be hosting the reading of a new Gujarati play in memory of
Manharbhai Gadhia
, who was an ardent supporter of the alternative in Gujarati theatre.
VESHA
is the story of a conflict between two heads of a Bhavai troupe, a father and a son. On the same night, they both decide to stage two different Bhavai Veshas (plays). The father stages the Vesha of Asaait Thakar, the founder of the Bhavai form itself. Set in the fourteenth century the vesha shows how a transgression of caste identity was the foundation of Bhavai. The son stages a modern Vesha, a story of two lower-caste policemen and their encounter with a youth who belongs to the Patidar community - which locates itself higher up in the caste hierarchy - soon after the violent Patidar agitation for reservation in Gujarat in 2015. The play oscillates between both the Veshas and probes into a fundamental question: How can one claim an identity without the stigma attached to it?
Readers:
Pratik Gandhi, Hemang Vyas, Hemant Kher, Parth Rawal
Written by:
Abhimanyu Acharya
Directed by:
Pratik Gandhi
Chanakya Vyas
, Indian Ensemble's artistic director, will be present at the reading to share information about this rigorous and exciting programme.
About New Writing:
New Writing is a series of dramatic readings of new plays by known, and lesser-known, playwrights writing in English, Hindi, Marathi and Gujarati! In the fourth session of the programme we begin a partnership with Indian Ensemble's writing programme in which over three months we will feature three original plays that came out of the programme last year.
Date:
Saturday, 18th January 2020.
Time:
7.30 pm.
Venue:
Studio Tamaasha, Andheri West.
*Mumbai Theatre Guide takes no responsibility for change in schedule.