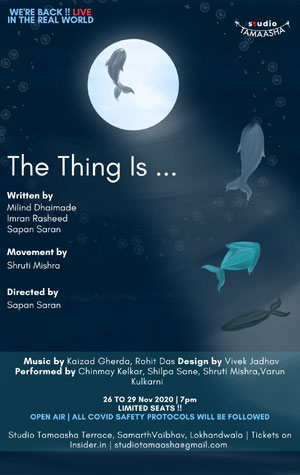 News comes from Sunil Shanbag-led Studio Tamashaa, about new live production, THE THING IS.
According to their newsletter, "On the 3rd of November the Maharashtra government allowed live performances to resume. It was like a breath of life for theatre people! But it was not as though theatres could open instantly. Resuming performances after a break of six months would take time - economics have to be considered, new work prepared, people have scattered and need to re-group.
"At Tamaasha Theatre we had moved some of our work online, and it was keeping us busy enough. But a deep itch to create a live performance persisted and a couple of months ago we asked ourselves, "why not prepare for the day when it will be possible to perform live again?" It was more a gesture of hope than anything else. So we looked for an easy form, or genre, and with three writers enthused, things began to move very quickly.
"The timing of the government notification was completely unexpected, but we were already half way through rehearsals when it came. For the last two years we have used our beautiful terrace at Studio Tamaasha only as a holding area for audiences. Now it seemed the safest and the most attractive space to resume live performances."
THE THING IS will have an opening run of four evenings starting November 26th. The play is about "Three writers exploring the idea of wishing through the worlds of three unusual characters. In
Sifar
the young man comically constructs the dynamics of the world using numbers and their value, always wishing he was the number zero. In
Lekhak Ki Begum
the cheerful housewife nurtures fiercely a desire to enter the intellectual world inhabited by her husband. In
The Wishful Life of Vishu we see a loser, embittered against the deep injustice of a cynical class divide. Interweaving these three pieces is
Bindu,
a movement piece that explores primeval human longings that are resolute and hopeful."