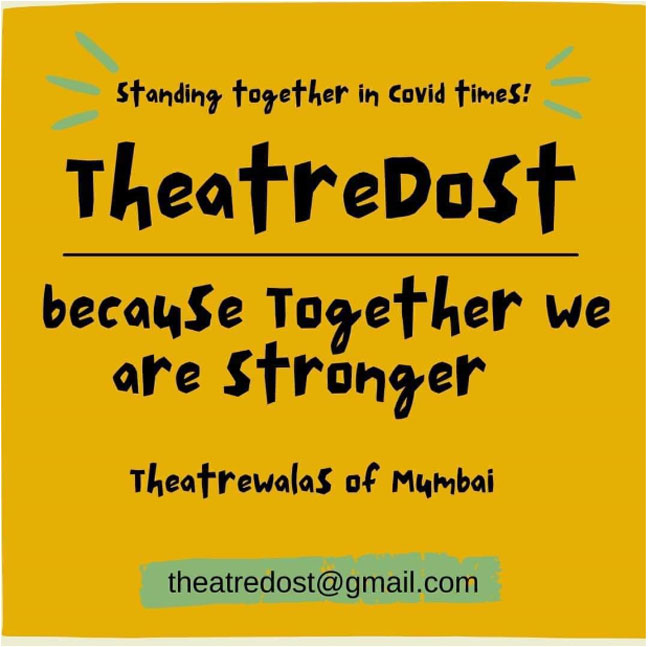 When all else fails, humanity and team spirit come to the rescue. On the social media timelines of several theatre folk the following has been shared, about a support group initiated by Sunil Shanbag and Sapan Saran: "A group of us theatrewalas in Mumbai have started a small support initiative for the theatre community in the city. We will work with a chain of chemists to provide basic Covid medicines following Government guidelines and as prescribed by a doctor at no cost for those of our colleagues whose finances are currently stretched. We are also developing area lists of humanitarian aid like free meals for Covid patients, tele doctors, isolation facilities etc. Reach out to us if you need help, or know anyone who does. Please spread the word within the community amongst different language theatre groups. (Translations of this message in Hindi, Marathi, Urdu and Gujarati are available)
"We are looking for volunteers to help, and funds for medicines. We have received a small fund to begin work. Please contribute whatever you can. We will share account details with those who can help financially.
Urgently looking for volunteers for the following:
- Language translators and/or people who can speak in Kannada, Tamil, Malayalam, Sindhi, Konkani, Kutchhi
- Tech support for the elderly and those with no access to the internet.
Please reach out for aid at:
+91 9833681807, +91 8527276903, +91 9819351789, +91 7999384341
Or get in touch with these people on social media:
@Akshay Shimpi, @Saumya Tripathi, @Sunil Shanbag, @Manjiri Pupala, @Priyanka Charan, @Sapan Saran
Email:
theatredost@gmail.com
Starting small. Starting somewhere."