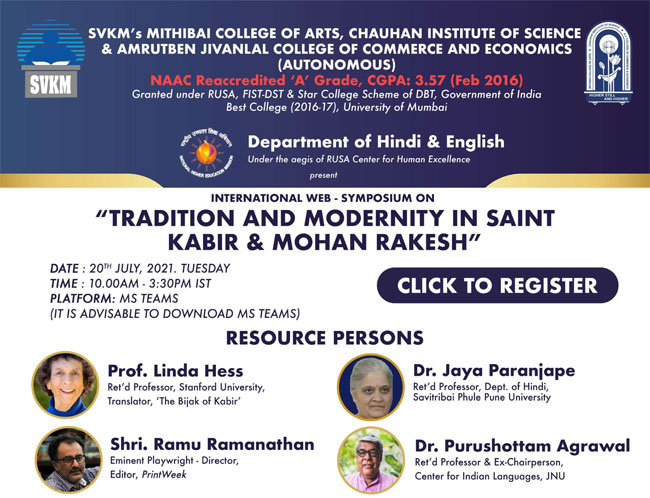 The Departments of English and Hindi at Mithibai College has organised a One-day International Web- Symposium on 'Tradition and Modernity in Saint Kabir and Mohan Rakesh.'
According to information provided, "Literature often acts as a guiding beacon to society and envisages society as an ideal of strength, character and universal human values. This symposium will bring out hidden gems from the works of Saint Kabir and Mohan Rakesh and interpret them to bring to light new notions of tradition and modernity. The process of translation and some of the resultant literature produced will also be analysed during the symposium."
Date:
20th July, 2021
Time: 10 am - 3:30 pm
The Webinar will be held on
MS teams
. Please fill the registration form latest by 6:00 p.m. on 19th July 2021.
Registration link: https://docs.google.com/forms/d/1qYtCZ7fxic7AK6J1wXnaQfFhWNT-zfojFxCkwSQiZyE/viewform?edit_requested=true
*Mumbai Theatre Guide takes no responsibility for change in schedule.