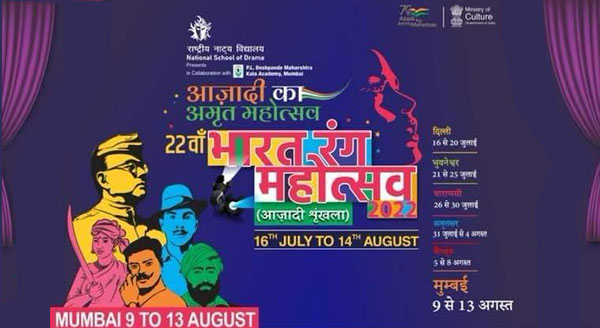 A selection of the National School of Drama's festival, Bharat Rang Mahotsav (Bharangam) will be staged in Mumbai from Aug 9 -13. The Azadi Ka Amrit Mahotsav (75 years of Indian Independence) special, that has a tour lined up from July 16 to August 14 in several cities, comprises productions that are about the Indian Freedom Movement-- I AM SUBHASH and RANG DE BASANTI CHOLA from Bhopal, GANDHI-AMBEDKAR and TILAK ANI AGARKAR from Mumbai, and AUGUST KRANTI from Nagpur.
The shows to be held at Ravindra Natya Mandir every evening at 7 pm are free of charge.
Click here for the Schedule
*Mumbai Theatre Guide takes no responsibility for change in schedule.