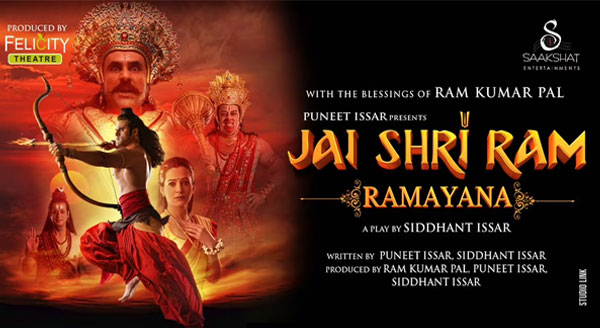 The father-son duo of Puneet and Siddhant Issar are ready with their new play JAI SHRI RAM, to be premiered in Mumbai on November 20.
The play, starring Siddhant Issar, Vindhu Dara Singh, Yashodhan Rana, Payal Goga Kapoor and Samiksha Bhatnagar, has been written and directed by the Issars. The production is "depicted from Bhagwan Shri Ram's perspective. The entire story of the Ramayan in a concise form of 3 hours with 12 original track songs, live action and dance, intense dialogues, special effects, rich sets, costumes and extravaganza sets."
Puneet Issar and Siddhant Issar are playing the role of Ram and Raavan, and Vindhu Dara Singh plays Hanuman.
*Mumbai Theatre Guide takes no responsibility for change in schedule.