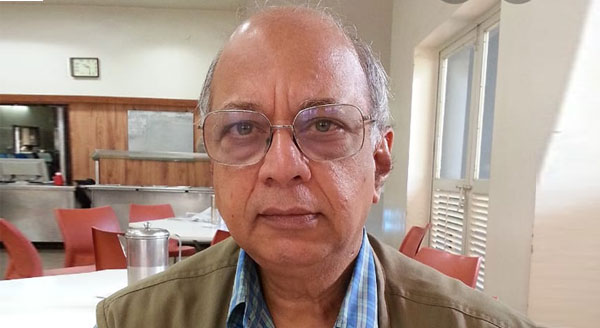 When Satish Alekar was ready with his new play, THAKISHI SAMWAD, it was also the occasion for the new editions of all his plays like ZULTA PUL, BEGUM BARVE and MAHANIRVAN, the trend-setting plays of the 1980s to released in a book published by Popular Prakashan, an established publishing house established in 1924.
Aalekar has an illustrious theatre career. He is a founder-member of the Theatre Academy [TA], the theatre group known all over the world for its production of GHASHIRAM KOTWAL, a controversial play by Vijay Tendulkar. Along with Tendulkar and Elkunchwar, Aalekar is considered among the most influential and progressive playwrights in modern Marathi and of course Indian theatre. Aalekar's plays have been widely translated and produced in English, Hindi, Tamil, Dogri, Gujarati, Punjabi, Rajasthani, etc. His plays have been included in the National Anthologies published in 2000-01 by the National School of Drama and Sahitya Akademi, Delhi. He is the recipient of several national and state awards for his sterling contribution to the field of theatre.
Aalekar has been a theatre enthusiast right from his college days in Pune. He gained his first stage experience as an actor in a college play. He caught the eye of Bhalba Kelkar, a senior theatre practioner who had set up the Progressive Dramatic Association [PDA]. Kelkar invited Satish to join him. Satish wrote his first one-act play JHULTA POOL in 1969. By that time the PDA had attracted a bunch of youngsters like Dr Jabbar Patel. They soon became important members of young circle inside the PDA.
The PDA was split in 1973 and the bone of contention was Tendulkar's Ghashiram Kotwal. The break-away group set up 'Theatre Academy' [TA] in Pune and staged Ghashiram Kotwal to standing ovations. Ghashiaram Kotwal brought the TA name and fame in equal measure. Since then, the TA has mounted over 30-odd plays.
Aalekar has earned his place under the sun as an important playwright with plays like MAHANIRVAN [1974], BEGUM BARVE [1979], DUSRA SAMANA [1987], etc. Till today he has written nearly a dozen plays. In addition to this, Aalekar is well-known theatre-teacher. During July 1996 to January 2009, he worked as a professor and the head of the Centre for Performing Arts [Lalit Kala Kendra] at the University of Pune. He had worked as the Honorary Director for a program supported by Ratan Tata Trust at the University of Pune during 2009-2011. He had conceived and implemented 'Playwrights Development Scheme' and 'Regional Theatre Development'. These programmes were implemented during 1985-1994 and were supported by the Ford Foundation. In 2003, he was invited by the Tisch School of Arts at New York University to teach a course on Indian Theatre, followed by another invitation in 2005 by the Department of Theatre and Films Studies, University of Georgia to direct an English production of his play Begum Barve.
Corona virus got all of us thinking about our lives, our cultures and our future. During these months, Aalekar conceived and wrote his new play THAKISHI SAMWAD where the locale in Pune, a familiar ground for Aalekar. It is a story of an 80 years old man living in isolation and is being cared for by a 40 years old nurse. She quizzes him about his life and times. This is how the play unfolds. It is a vintage Aalekar play with catty dialogues and sharp insights in our socio-cultural-political milieu. We are eager to see its stage production.
*Avinash Kolhe
is Mumbai-based theatre lover who has been enjoying and reviewing plays for 40 odd years.