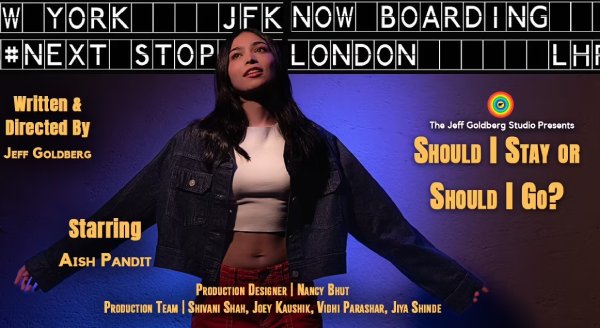 The Jeff Goldberg Studio announces his new production, SHOULD I STAY OR SHOULD I GO which stars versatile actress Aish Pandit. Written and directed by Jeff Goldberg, and will be performed at the Jeff Goldberg Studio from April 14 to 16, 2023.
The play is about a night in the life of a young lawyer, Maya, who finds herself amidst a quarter-life crisis. Realizing she's been an imposter in her own life all along, she finds herself questioning everything that's brought her to this moment. Where should she escape to? The past, the present, or the future? Help her decide the question weighing heavy on her mind, SHOULD I STAY OR SHOULD I GO?"
Speaking about the play Goldberg says, ''Fake is straight up lying in the moment. An imposter is a whole new person, and over time, you start to believe in it yourself. It's fun to invent yourself. I mean, why shouldn't we invent ourselves? It's so annoying when we allow other people to do it for us. Like, somehow they know me better than I myself.
Actress Aish Pandit also shared her thoughts about the play, "No one tells you what life is really like, they just fill your head with all their bad ideas and throw you at life...SHOULD I STAY OR SHOULD I GO points out the push and pull of what it's like to be a young modern woman, the pressure to have it all figured out. Having to wear multiple hats and fulfill various roles, evaluating tough life decisions that seem to show up all at once. It captures the Gen Z dilemma in present-day India."
Date: 14th – 16th April 2023
Time: 7:30 PM
Venue: The Jeff Goldberg Studio, Khar (W)*Mumbai Theatre Guide takes no responsibility for change in schedule.