38 KRISHNA VILLA, one of the most acclaimed Marathi dramas is all set to perform on the stage for the 100th time.

Produced by Mihir Gavali and written by Shweta Pendse, who has also performed the lead role in this play opposite Dr. Girish Oak, the play is directed by Vijay Kenkre.

38 KRISHNA VILLA revolves around a literature centric ttheme in which Dr. Girish Oak plays a high profile character of Devdutt Kamat, who is accused of some serious crimes by a stranger named Nandini Chitre. And then begins the challenge for Devdutt Kamat to prove himself not guilty.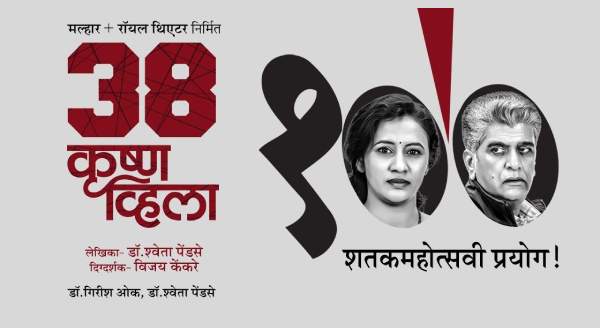 Director Vijay Kenkre is elated about 38 KRISHNA VILLA on completing a run of 100 shows, "It always feels nice whatever the plays may be, in any language, but 38 KRISHNA VILLA is very special for me. The credit for this goes to artistes, managers, and, more importantly, the response from the audience".
He further adds about his experience directing 38 KRISHNA VILLA, "My journey was good because it started during the pandemic and I was not expecting to be getting positive reviews right away,"
Even writer Shweta Pendse is also excited about 38 KRISHNA VILLA saying, "When the show was inaugurated in March 2022, she was not expecting that this play would complete 100 shows so soon, but the response received from the audience right from the inaugural show is just overwhelming, and we do get repeat audiences as they want to witness the play again and again, which was also unexpected for me."
She couldn't stop praising Vijay Kenkre. "I first spoke with him about 38 KRISHNA VILLA script and then sent it, and he agreed to direct the play. We discussed the scripts and finalized everything and then he went ahead with the direction."
*Mumbai Theatre Guide takes no responsibility for change in schedule