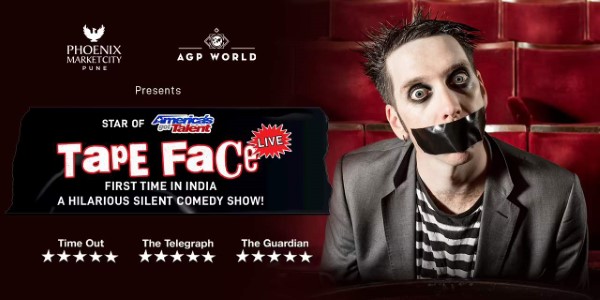 Award winning comedian Sam Wills, who is also known as Tape Face, is all set to embark on his first-ever multi-city India tour that is being presented and produced exclusively by AGP World. as part of his debut trek, which kicks off in January 2023 for two weeks.
The tour will start in Pune on January 25, followed by a show in Delhi, two shows in Mumbai, and one in Kolkata.
"It seems like a simple concept: one man in a stripy sweatshirt mimes his way through the challenges of daily life." But it's not easy to send a roomful of spectators into splits without uttering a single word. With a tape over his mouth and a stage full of props, Tape Face brings a collection of inanimate objects to vivid life. They tell a dancing story that breaks through the barriers of language and tests the very limits of our imagination. Plunging us into this absurd fictional universe, Tape Face gives old-fashioned clowning a fresh and contemporary perspective. India is about to get its first dose of a hilariously funny, quirkily inventive, and interactively engaging show. "Tape Face and AGP World are ecstatic to partner on this tour!" Says Ashvin Gidwani of AGP World.
"I'm beyond excited to make my debut in India! And I cannot wait to bring a show of which I am very proud as part of my on-going world tour. "Las Vegas is coming to India, and I am lost for words!" says an elated Sam Wills.
Click here for TAPE FACE schedules.
Tape Face (formerly The Boy with Tape on His Face) is a modern-day silent comic star from New Zealand. In 2016, he made his Las Vegas debut, reached the America's Got Talent finals, and completed a sold-out 52-date UK tour.
Drawing inspiration from sources like silent film, magic, puppetry, and circus acts, he has created a unique and critically acclaimed show that has gained in popularity since its television debut. Simon Cowell even pinned him as a modern Charlie Chaplin, and he persuaded Mel B to wear a toilet seat on her head live on American TV in front of an audience of over 14 million. He won over the judges and audience of America's Got Talent and Britain's Got Talent: Champions without saying a single word. Now, you can witness his physically hilarious show in India!
*Mumbai Theatre Guide takes no responsibility for change in schedule.