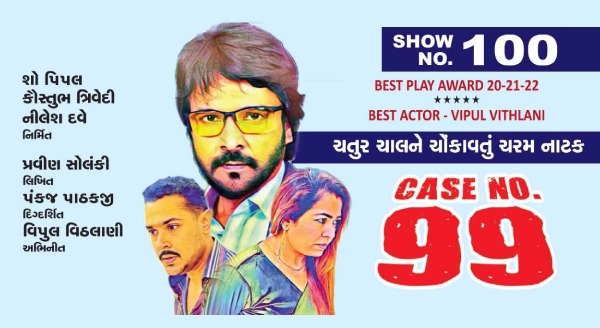 Actor Vipul Vithlani, who is recognized for his comic timings and director Pankaj Pathakji, are both enthusiastic. And why not? Their suspenseful Gujarati drama CASE NO 99 will complete its 100th show in Mumbai this Sunday. The play is produced by Kaustubh Trivedi and Nilesh Dave under the banner of Show People Productions.
Vipul Vithlani was named the best actor, while CASE NO 99 took home the prize for best play in 2020-2021-2022.
"Yes, I am excited that CASE NO. 99 is now reaching 100," actor Vipul Vithlani said in a statement to the Mumbai Theatre Guide team. "Still remember our first performance at Nehru and the 99th performance, which happened at Nehru Center. He also complimented Pankaj Pathakji, the filmmaker, for having complete faith in him." he said.
He further thanked audience by saying, "I am thankful to audience who has given me lots of love and appreciating me playing a role which is totally opposite from comedy." after offering more thanks to the crowd. I vividly recall a group of 15 people, 8 or 9 of who were children, who lately came to see CASE NO. 99. They were so impressed with the play that they have made the decision to see Gujarati plays going forward."
Along with him, director Pankaj Pathakji also expressed his enthusiasm for CASE NO. 99 after reaching 100 performances with the Mumbai Theatre Guide team. "One of the main reasons is Gujarati Theatre is back post-covid, we were all worried about the audience, but aside from comedy, there should be other genres as well," he claims. And for that, I want to praise Kaustubh Bhai for creating a thrilling drama; finishing 100 episodes after Covid in just 6-7 months is a tremendous accomplishment."
The fact that we fulfilled Mr. Vipul Vithlani's complete faith in me regarding the play is another cause for celebration. It was unique for me to direct a play in Mumbai, and it was novel for Vipul bhai to switch up the genre. For CASE NO. 99, we strengthened our weaknesses. This accomplishment is entirely the result of Vipul and Kaustubh."
This Drama, Suspense, Thriller is all about cheating the insurance company and trapping a CID.
The 100th show of CASE NO 99 will be held on:
Day & Date: Sunday, 9th July 2023
Time: 07:30 pm
Venue: Tejpal Auditorium, Mumbai
Team Mumbai Theatre Guide sends its best wishes to team CASE NO 99
*Mumbai Theatre Guide takes no responsibility for change in schedule.