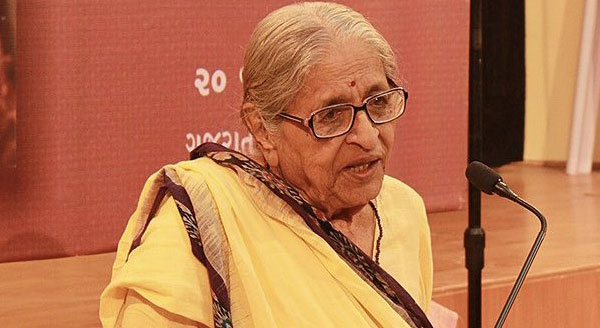 Eminent Gujarati novelist, playwright and translator, Dhiruben Patel, passed away at the age of 97.
In the course of a long and distinguished career, Dhiruben Patel, wrote several collections of short stories and poetry as well as novels, radio plays, and stage plays.
She had founded Kalki Prakashan, a publishing house in 1963-64 and from 1966 to 1975, she edited
Sudha
, a Gujarati journal. She later served as the President of the Gujarat Sahitya Sabha and Gujarati Sahitya Parishad. One of her plays, BHAVNI BHAVAI was turned into a film, by Ketan Mehta.
Her other plays include PAHELUN INAM, PANKHINO MALO, VINASHNA PANTHE, MANNO MANELO, AKASH MANCH, and more recently, MUMMY TU AAVI KEVI among others.
Patel received the Ranjitram Suvarna Chandrak award in 1980m the K. M. Munshi Suvarna Chandrak award in 1981 and the Sahitya Gaurav Puraskar award in 2002, both by Gujarat Sahitya Akademi. She also received the Nandshankar Suvarna Chandrak award and Darshak Award in 1996. She also won the 2001 Sahitya Akademi Award for her novel
Agantuk.
MTG conveys sincere condolences to her legions of readers, proteges and admirers.