The Royal Opera House, Mumbai presents NATYA VELHAAL, OPERA HOUSE RANGAMANCHAVAR MARATHI NATAKANCHI PARVANI, its first ever four-day Marathi theatre festival in association with Media Partner Maharashtra Times, Radio Partner 93.5 RED FM (TBC) and Supported by Mumbai Theatre Guide, Astitva and Avid Learning starting from 6th April to 9th April 2023.

The four-day festival is designed in a way that the audience gets to witness a variety of themes through the performances ranging from Sangeet Natak, Suspense, Comedy, Thriller, Folk, Lavani, Love story, and Experimental, all under one roof.

The festival will host performances by some of the radiant stalwarts from the Marathi theatre industry such as Girish Oak, Makarand Deshpande, Amruta Subhash, Madhura Welankar Satam, Saurabh Gokhale, Anita Date, Sandesh Jadhav, Gauri Jadhav and many more. It will be an enjoyable experience for the audiences to come and watch these charismatic individuals express their art at an equally impressive stage that compliments their exceptional talent.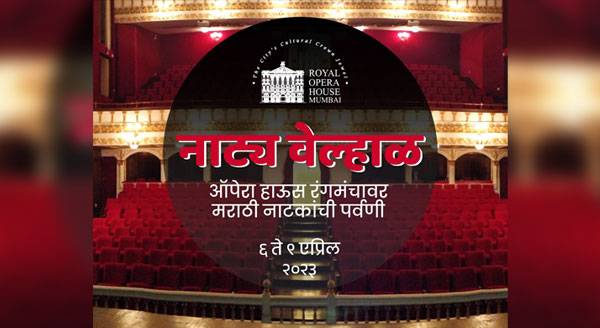 The festival opens on a grand note with a mystery-themed play called 38 KRISHNA VILLA, further lined up with a suspense thriller called KAALI RAANI both directed by renowned actor Vijay Kenkare. Followed by SIR PREMACHA KAY KARAYCHA, a stellar story about the dilemma of love. Also staging a unique dance musical JAY SHANAKRA VIDYADHARA a lively, dance musical performance of popular dramatizations of the works by the well-known playwright Vidyadhar Gokhale. One cannot miss the journey of the language from the birth of the Marathi language till today, it's fun and facts, gossip, singing, dancing, drama, and dialogue is a quality and beautiful interweaving of the play 'MADHURAV - BORU TE BLOG'. The humorous and edgy - " a dark comedy play - PUNASHCHA HONEYMOON takes us on a journey through a couple who revisits their honeymoon destination to get a breakthrough in their stagnant relationship.
The festival also stages TO RAJHANS EK, which recently was nominated for the Zee Natya Gaurav Nominations in four categories; an experimental drama that explores the mentality of farmers. A play for those who love a good murder mystery YOU MUST DIE is grand and imposing, as one has come to expect from Vijay Kenkre's plays. PRASTHAN URF EXIT, is a play directed by Alok Rajwade, about an old couple that is confronting the idea of death.
The festival will end on an electric note with an exhilarating Lavani dance performance - a traditional art form of Maharashtra. LAVANI KE RANG gives a glimpse into the world of traditional Lavani artists from the viewpoint of an enigmatic and quirky theatre Malkin from the Sangeet Bari tradition.
Marathi Natya Velhaal Festival Schedules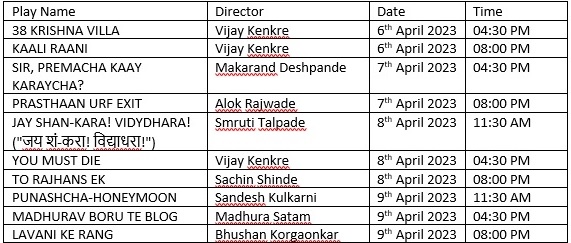 *Mumbai Theatre Guide takes no responsibility for change in schedule.