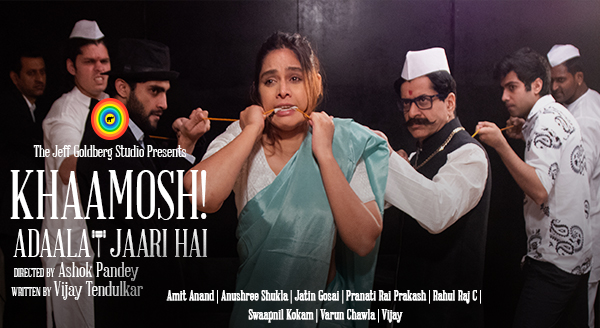 KHAAMOSH! ADAALAT JAARI HAI
, a modern adaptation of Vijay Tendulkar's Marathi drama SHANTATA! COURT CHALU AAHE! which is regarded as a milestone in the history of Indian theatre, will be staged at The Jeff Goldberg Studio, Mumbai, on March 17-19 and 24-26, 2023.
Directed by Ashok Pandey, this satirical courtroom drama holds a mirror up to society and exposes its implicit gender bias. The play is a powerful commentary on the state of our society and the human spirit. It is a story of how one person`s determination and integrity can change the course of justice.
"I am a huge fan of Late Vijay Tendulkar and had done two plays before directing. KHAAMOSH! ADAALAT JAARI HAI. In my opinion, this play teaches us many things, not just about the male-female debate. This play was relevant yesterday, relevant today, and will be the same in the future." says Pandey.
He further adds, "I remember being so excited while reading the script in front of the cast and so were they too while listening to the same, and everybody loved the content especially when it came to Vijay Tendulkar's name."
*Mumbai Theatre Guide takes no responsibility for change in schedule.