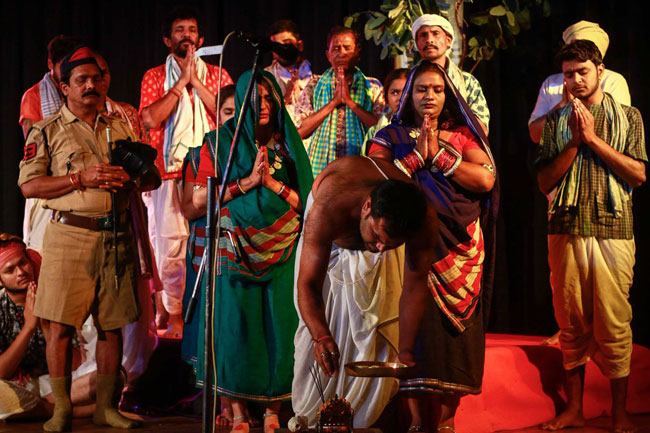 There have been many versions of CHARANDAS CHOR, but Habib Tanvir's Chhattisgarhi version remains memorable. Clips, songs and even the entire play can be watched online.

Habib Tanvir converted Vijaydan Detha's Rajasthani folktale into a Chhattisgarhi musical farce CHARANDAS CHOR, and performed in it too, with his Naya Theatre troupe. Subsequently, the play was turned into a movie by Shyam Benegal (1975) and continues to be staged by many theatre groups all over the country.

The eponymous thief is strangely upright and a man of principle. He goes about merrily stealing and being chased by a policeman. He is the kind who would steal from a temple, but also return a woman's jewellery because he cannot bear to see her weep, and share the sattu he has stolen from a poor peasant.

The story shows that a thief can be honest and generous, while so-called honorable men-ike the landlord- can be greedy and unscrupulous. Charandas steals from the rich and gives to the poor, while others covet wealth and glory.




The happy-go-lucky Charandas's troubles start when he tries to become the disciple of a guru. The religious leader asks him to give up his vices, so Charandas cheekily vows never to eat on a golden plate, never ride an elephant at the head of a procession, never many a queen, and never become king, certain that all these things are unlikely to happen. The wily guru makes him also promise to give up lying and Charandas agrees- which causes him endless problems, and gives the play it boisterous humour.

Charandas believes that stealing is his dharma, but can a thief always be truthful? It turns out that because he keeps his word, to the extent of turning down the hand of the queen and refusing to be king, he is doomed. Done in Tanvir's signature folk form, with exuberant songs and dances, the play's comic tone hides the biting satire on religion and power, for which it was briefly banned. Like all folk tales, it has earthy wit, simple wisdom, and a pertinent message, which make the story timeless.