From 1st to 5th August 2014, NCPA will host the fifth edition of Pratibimb, its festival of Marathi plays. Pratibimb was abstracted to provide a platform to contemporary Marathi Theatre. It is a reflection of the fine works of the Marathi artists and promotes a deeper understanding for the Marathi Theatre.

Since its inauguration in 2010, Pratibimb has showcased some of the best of Marathi contemporary theatre. Its line-up of plays for this year will feature directors Sushama Deshpande, Nipun Dharmadhikari, Chandrakant Kulkarni, Virendra Pradhan, Sarang Bhakhre, Susheel Jadhav and others.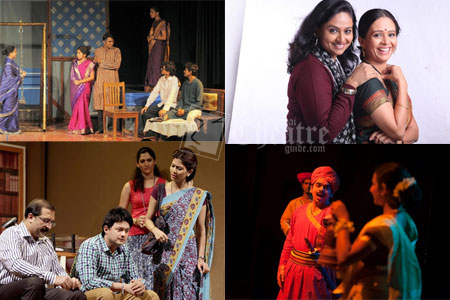 Schedule:

AAYDAAN (90 mins)
Experimental Theatre
Friday, 1st - 6.30 pm

Urmila Pawar is aware of being born a Dalit. At a later stage, her realisation of being born a woman raises her consciousness to another level.

Based on the Novel by Urmila Pawar
Concept by Ramu Ramanathan
Directed by Sushama Deshpande
Cast: Nandita Dhuri, Shubhangi Sawarkar & Shilpa Mane

An Awishkar Production

EK BAAKI EKAAKI (70 mins)
Godrej Dance Theatre
Saturday, 2nd - 3.00 pm

This comical compilation of short incidents is a reflection of the lives of people in a metro. With millions around, they are still in search of someone to call their own.

Written by Sanket Tandel
Directed by Parag Oza, Pralhad Kudtarkar, Mahesh Keskar, Sanket Tandel, Krunal Alve & Sushil
Cast: Yashoman Apte, Rohit Mane, Bhavesh Titwalkar, Abhishek Gaonkar & others

An Astitva Production

SANGEET MANAPMAN (180 mins)
Experimental Theatre
Saturday, 2nd - 5.00 pm

A milestone in Marathi theatre, the play traces the love story between penniless Dhairyadhar and affluent Bhamini.

Written by Krishnaji Prabhakar Khadilkar
Directed by Nipun Dharmadhikari
Cast: Rahul Deshpande, Priyanka Barve, Amey Wagh, Sayalee Phatak & others

A Raahen Production

ZOPALA (105 mins)
Godrej Dance Theatre
Sunday, 3rd - 4.00 pm

Lalit Shah enjoys his position in the office as the boss's steno. His snobbery and smugness is shattered when something from his past changes the way he looks at his life.

Written by V. P. Kale
Cast: Prathamesh Parab, Vibhav Rajadhyaksha, Kunal Shukla & others

Kusum lives a happily married life until an unusual night changes her life.

Written by Ratnakar Matkari
Cast: Vedangi Kulkarni, Suvrato Singh, Yashoman Apte & others
Directed by Susheel Jadhav, Krunal Alve & Parag Oza

An M. L. Dahanukar's Theater Magic Production

GET WELL SOON (120 mins)
Experimental Theatre
Sunday, 3rd - 6.30 pm

The play, inspired by the book Mukti Patre written by Dr. Anand Nadkarni, who started the Muktangan De-addiction Centre in 1986, speaks volumes about the fight an alcoholic has to go through to overcome his addiction.

Written by Prashant Dalvi
Directed by Chandrakant Kulkarni
Cast: Swapnil Joshi, Sandeep Mehta, Samidha Guru & Madhavi Kulkarni

A Jigisha & Ashtaavinayak Production

AMHI SAU. KUMUD PRABHAKAR APTE (120 mins)
Experimental Theatre
Monday, 4th - 6.30 pm

The existence of another Mrs. Apte is shockingly revealed to the wife after the death of her husband of 23 years.

Written & Directed by Virendra Pradhan
Cast: Aishwarya Narkar & Pratiksha Lonkar

A Bhadrakali Production

DUSHYANTAPRIYA (120 mins)
Experimental Theatre
Tuesday, 5th - 6.30 pm

This play within a play has Rohit playing Shakuntala, when the actress drops out. This puts two men on stage as lovers.

Written & Directed by Sarang Bhakre
Cast: Swapnil Kale, Raj Hanchanale, Nishant Roy Bombarde, Bhushan Kulkarni & others

A Gulaabi Theatrewale Production

Daily Tickets:

Experimental Theatre:
`180, 135 & 90/- (Members)
`200, 150 & 100/- (Public)
Godrej Dance Theatre:
`135/- (Members)
`150/- (Public)

Box Office now open.

Click here to find out about the Curtain Raiser to the NCPA Pratibimb festival on e Natya Chaupal

*Mumbai Theatre Guide takes no responsibility for change in schedule.