When We Dead Awaken- Ibsen Comes Alive in Mumbai...The first Ibsen Festival in Mumbai...Featuring Norwegian and Indian Artists...



October 13, 2014 3:20:24 PM IST
MTG editorial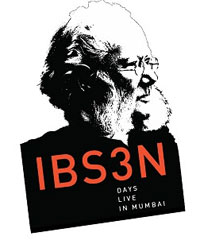 The nineteenth-century Norwegian playwright Henrik Ibsen continues to occupy world stage. His insightful and beautifully crafted plays still speak to us. For the first time, the Ibsen Festival comes to Mumbai. The person bringing the festival to Mumbai is the veteran actress, singer, composer, dancer, writer and director Ila Arun. Ila Arun and her company Antardhwani productions have collaborated with the Royal Norwegian Embassy in Delhi to stage the festival in Mumbai.

The festival titled 'When We Dead Awaken-Ibsen Comes Alive in Mumbai' will take place from 31st October to 3rd November 2014 at the Sophia college auditorium at Breach Candy.

The festival opens with a special jazz show that will create sound portraits of Ibsen's characters with vocals by Ruth Wilhelmine Meyer and Helge Lien on piano. This will be followed by Kåre Conradi's acclaimed solo performance of Ibsen's PEER GYNT in English.

Day 2 of the festival will present the Indian version of PEER GYNT. PIR GHANI, the Indian adaptation by Ila Arun, which is based in Kashmir, has been directed by KK Raina. Audiences will thus get to see two very different interpretations of the same play.

On Day 3, theatre group Ideas Unlimited will present their Gujarati version of Ibsen's play THE MASTER BUILDER. The play has been adapted by Chirantana Bhatt and has been directed by Manoj Shah.

On the last day, a seminar has been organised. The seminar- 'The Task and Temptation of Adapting, Translating and Performing Ibsen' will feature presentations by Norwegian artists and other scholars.

Schedule: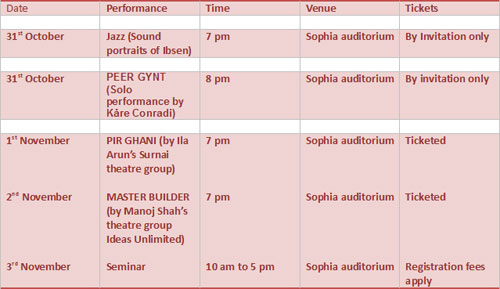 Click here to read Ila Arun's interview about the festival

Click here to read Kåre Conradi talk about his solo performance of PEER GYNT

Click here to read KK Raina talk of his direction and performance in PIR GHANI

Click here to read what Manoj Shah has to say about his version of THE MASTER BUILDER

*Mumbai Theatre Guide takes no responsibility for change in schedule.