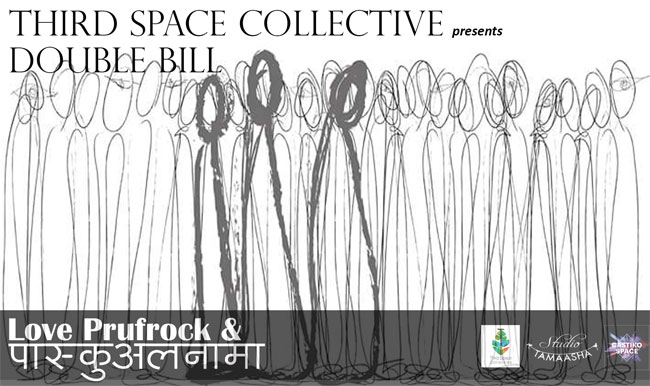 This Delhi based theatre group is bringing two of their productions-
LOVE, PRUFROCK
(Official selection at the Old World International theatre festival) and
PASCUALNAMA
(Commissioned by Instituto Cervantes, Embassy of Spain) to Mumbai.
About the plays:LOVE, PRUFROCK
based on T.S Eliot's 'The Love Song of J Alfred Prufrock' inquires into the disillusionment of a man with the times he is living in. Derived from this literary masterpiece, the performance uses the interplay of the human body to understand the poem's protagonist and the structures surrounding him. In the attempts to find Prufrock inside the performers' bodies, residing alongside their own anxieties, the performance ends up creating multiple Prufrocks. All cramped inside this overwhelming world of ours. The fractured narrative is threaded delicately by swift movements through urban landscapes.
The Metro | The Office | The Mall | Home | The Pub become witnesses to Prufrock's constant attempts to be.
PASCUALNAMA
is based on La familia de Pascual Duarte by Camilo Jose Cela, a landmark novel in Spanish literature.
This physical piece is pegged on Pascual's relationship with his mother and his wife, Lola as it attempts to unearth the underlying vulnerabilities that define these relationships. The 'others' in Pascual's performance is strangled by his innocence he wants to preserve in his retellings. And he would have successfully murdered the only strand that mattered to him - the truth. But he ends up making a grave mistake - By performing his narrative, Pascual ends up being performed upon.
Suitable for age 18 and above.
Venues:
Tamaasha Theatre- 14th April, 5 p.m. and 8 p.m.
Studio Tamaasha, Bungalow No. 76, Aram Nagar Part 2, Behind Physioflex Gym, Versova, Andheri West, Mumbai, Maharashtra 400061
Castiko Space- 15th April, 6 p.m. and 9 p.m.
121 Aaram Nagar II, Versova, Andheri West, 400061
Duration:
Each double bill will last for two hours. There will be an interval of 15 minutes between the two plays.
(Important note: There are separate ticket links for the two venues - Tamaasha and Castiko).About Third Space Collective:
Third Space Collective is a group of theatre practitioners and educators trying to create contemporary and experimental work in and about the times that we live in. The last 4 years have seen the Collective produce a series of productions and create solid groundwork to take theatre to the communities that make up the city.
*Mumbai Theatre Guide takes no responsibility for change in schedule.