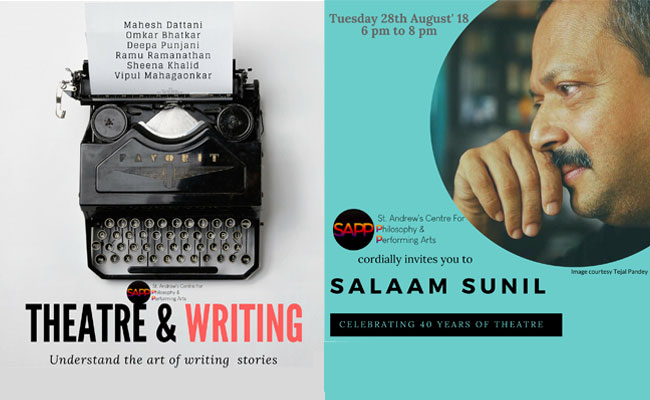 In its fourth week
of "Sea Readings"
, the
St.Andrews Centre for Philosophy and Performing Arts (SAPP)
has opened its stage to original poems on the Sea.
A number of these poems will be presented in a designed performance. The poems have arrived from Mumbai, West Bengal and even from Saudi Arabia!
Date
: Thursday, 23rd August 2018
Time
: 6 pm
Entry Free.RSVP www.tinyurl.com/sappmumbaiShaam- E-IsmatKatha Kathan
will present 'Shaam-E-Ismat', a two hours' reading of Ismat Chugtai's work.
Date:
Friday, 24th August' 18
Time:
6-30 PM
Entry Free
RSVP www.tinyurl.com/sappmumbai
Venue for both performances:
St. Andrew's Centre for Philosophy & Performing Arts
St. Dominic Road,Bandra West, Mumbai.
*Mumbai Theatre Guide takes no responsibility for change in schedule.