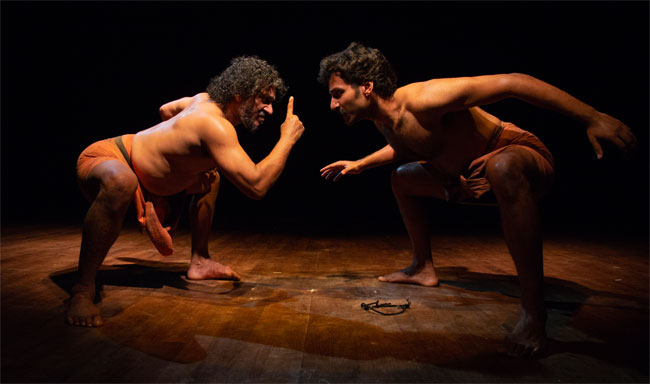 BALI
, written and directed by
Nimmy Raphel
is a well received production that is based on an episode from the Ramayana.
The play is a retelling of the various events that lead up to the battle between Bali, the ruler of Kishkindha and Ram, the King of Ayodhya and eventually, the death of Bali.
Here, the writer has tried to explore the notion of right or wrong through its various characters, while steering clear of any subjective influences. The play weaves multiple stories through the point of views of Bali, Tara, Sugreeva, Angadha, Rama and Ravana and talks about how each of them make decisions and take actions based on the ethics that define their lives.
Writer-Director Nimmy Raphel
says: "
Adishakti's BALI is a meditation on a crucial and intriguing moment in the Ramayana. The ethical questions surrounding Bali's death, and the perspectives of those involved and effected by it, are the central provocation of this play."
Nimmy Raphel
also adds that
"Each retelling offers the opportunity to comment on society in the present. Sometimes the world of myth and literature shapes the world of real life politics in India, justifying and projecting competing visions for the future."
Dates:
24th & 25th August 2019
Time:
6 pm & 9 pm on both days (four shows in all).
Venue:
Prithvi Theatre, Juhu, Vile Parle (W).
Ticket price:
Rs 500.
*Mumbai Theatre Guide takes no responsibility for change in schedule.