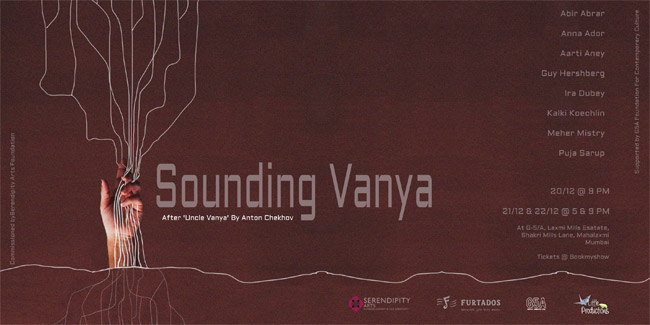 G5A
now programmes
Performance Long Runs
, to allow not just audiences the chance to experience and engage with interesting work more deeply, but also for artists to engage with and adapt to the space, allowing the piece to breathe differently with each show.
With this aim
G5A
will be premiering
SOUNDING VANYA
in Mumbai with five shows at its Black Box on 20th December, with more shows on 21st & 22nd of December 2019.
Rehaan Engineer's SOUNDING VANYA
is an experimental piece that reinterprets the 120 year old classic -
UNCLE VANYA
- by
Anton Chekhov
.
In his Director's Note,
Rehaan
quotes
Chekhov
himself, "The drama must either degenerate completely or take a completely new form. We cannot even imagine what the theatre will be like in a hundred years." Rehaan's contemporary take on the piece is further "dismantling and rebuilding it to allow it to sound differently".
Associate Artistic Director of G5A,
Ishan Benegal
, shares insight into their curatorial process, adding, "Our focus is to create a space for our city to engage with the contemporary arts by showcasing work and supporting artists who are not only pushing the boundaries within their own discipline but also of the form itself. We're excited to have Rehaan present his work at G5A again."
Kalki Koechlin
who will be performing in this play adds, "This is an interpretation of Chekhov's 120-year-old play 'Uncle Vanya' told through the actors' various modern mechanisms and a live music performance. The audience can expect an experiential evening rather than a traditional play setting."
Keeping true to Rehaan's style of performing the plays not more than once, this will be the only run for SOUNDING VANYA in Mumbai
.
Please click here for Preview
Venue:
G5A Foundation For Contemporary Culture, Laxmi Mills Compound, Mahalaxmi.
Dates & Time:
20th December 2019 (9 pm) and 21st & 22nd December 2019 (at 5 pm and 9 pm; two shows on both days each).
Duration:
2 hours 30 minutes (3 intervals).
Language:
English
Age Limit:
12 years and above. Parental Guidance advised.
*Mumbai Theatre Guide takes no responsibility for change in schedule.