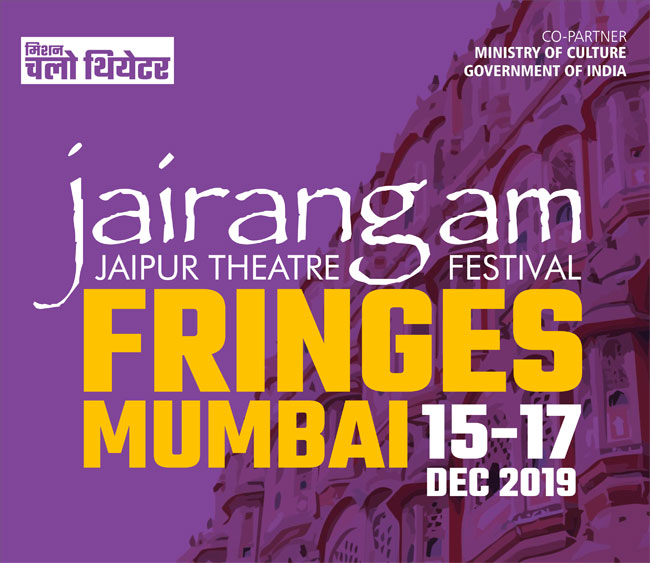 The
'Jairangam Fringes Theatre Festival'
, will be held in Mumbai for the first time.
3 M Dot
Bands
in collaboration with the
Ministry of Art and Culture, Government of India
, and in association with
Mukkti Foundation
will host this festival from
15th to 17th December 2019
at the
Mukkti Cultural Hub
.
The event will showcase six plays:
THE WAY I SEE IT (Director: Shiv Subrahmanyam); PITAJI PLEASE (Director: Makrand Deshpande); KISS OF THE SPIDER WOMAN (Director: Hardik Shah); BAANSWADA COMPANY (Director: Niresh Kumar); HUM GUNAHGAR AURETEIN (Director: Sadiya Siddiqui) and BALLYGUNGE 1990 (Director: Atul Satya Koushik).
Deepak Gera,
Director of the festival says: "The magic of art and theatre has the power to transform an audience, an individual…Jairangam started with an aim to celebrate diversity and to uplift the scenario of theatre in Jaipur and Rajasthan. The previous seven seasons proved to be tremendously successful and the eighth edition was another feather in the cap."
Ruchi Narula
, Convenor of the festival says
,
"The aim at the core of Jairangam is to establish a stage for intercultural exchange by bringing together plays and artists from different regions under one roof. Hence, Jairangam brings to you, Fringes - Mumbai."
Venue:
Mukkti Cultural Hub, Plot 141 A, Model Town Rd, Andheri West, Mumbai.
For Bookings:
https://www.jairangam.org/fringes-mumbai
*Mumbai Theatre Guide takes no responsibility for change in schedule.